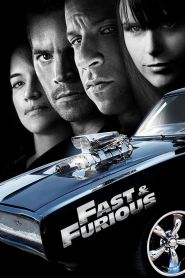 General Information
Glossary: F
Released Year: 2009
Runtime: 107 minutes
Genre: Action, Crime, Drama, Thriller
Directors: Justin Lin
Writers: Chris Morgan
Casts: Monique Gabriela Curnen, Greg Collins, Neil Brown Jr., Marco Rodríguez, Vin Diesel, Michelle Rodriguez, Joe Hursley, Mousa Kraish, Jordana Brewster, Liza Lapira, Joseph Julian Soria, Lou Beatty Jr., Jack Conley, Leigh Folsom Boyd, Roger Fan, Paul Walker, Laz Alonso, Shea Whigham, Brendan Wayne, Sung Kang, Gal Gadot, Tego Calderón, Don Omar, Cesar Garcia, John Ortiz, Mirtha Michelle, Greg Cipes, Ron Yuan, Alejandro Patino, Brandon T. Jackson, Wilmer Calderon, Don Thai Theerathada, Robert Miano, Luis Moncada, Kofi Natei, McCaleb Burnett, Jimmy Lin, Lou Reyes, Breon Ansley, Assaf Cohen, Loren Lazerine, Julian Starks, Christopher Gehrman, Naureen Zaim, Becky O'Donohue, Sharon Zeev, Alexandra Castro, Jaimie Sullivan
IMDB: Fast & Furious (2009)
Sponsored Links
Ratings
User Rating:
IMDB Rating:
6.6
Reviews
Entertainment Weekly

-

It offers an attractive getaway route from self-importance, snark, and chatty comedies about male bonding. Here, stick shifts do the talking.

The Hollywood Reporter

-

Fast & Furious is the first film since the original to be smart about how far to stretch logic without sacrificing the desired macho swagger and revved-up emotions.

Philadelphia Inquirer

-

Succeeds because the action is supercharged in a style that recalls Mel Gibson's apocalyptic classic, "The Road Warrior." The characters are more than cartoonish, and the plot grips the road. But it's Diesel who provides the nitro injection

The A.V. Club

-

The action scenes don't always get the balance between flash and danger right, but the movie remains agreeably dopey--presenting street-racing culture as a hotbed of colorful stereotypes and lipstick lesbianism--until a climax that just isn't there.

Austin Chronicle

-

The stripped-down title gets at what we're really here for: the cars. Are they fast? Check. Are they furious? Yep.
Fast & Furious (2009)
When a crime brings them back to L.A., fugitive ex-con Dom Toretto reignites his feud with agent Brian O'Conner. But as they are forced to confront a shared enemy, Dom and Brian must give in to an uncertain new trust if they hope to outmaneuver him. And the two men will find the best way to get revenge: push the limits of what's possible behind the wheel.