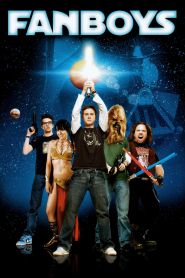 General Information
Glossary: F
Released Year: 2009
Runtime: 90 minutes
Genre: Adventure, Comedy, Drama
Directors: Kyle Newman
Casts: Danny Trejo, Seth Rogen, Danny McBride, Carrie Fisher, Ethan Suplee, Dan Fogler, Jay Baruchel, Joe Lo Truglio, Craig Robinson, Christopher McDonald, Chris Marquette, Kristen Bell, Kevin Smith, Sam Huntington, Ray Park, Billy Dee Williams, Jason Mewes, William Shatner, Will Forte, Charlie B. Brown, Allie Grant, Zak Knutson, Clark Sanchez
IMDB: Fanboys (2009)
Sponsored Links
Ratings
User Rating:
IMDB Rating:
6.6
Reviews
Seattle Post-Intelligencer

-

A hilariously spry effort from an equally unpromising premise.

NPR

-

You'd think the weakest link in Fanboys would be that it's all in-jokes, but they're actually not so "in" that a casual fan won't get them.

ReelViews

-

Unfortunately, while Fanboys has moments of success, it is mostly a middling road picture that doesn't do a lot more than any average, forgettable entry into the tired genre.

Entertainment Weekly

-

Mildly cute, mildly drooly, majorly too late spoof/homage.

Variety

-

End result feels like an uneven cross between an amateur "Project Greenlight" pic and such recent comedies as "Superbad" and "Pineapple Express," in which indie directors brought a certain edge to material that might once have felt more at home under the National Lampoon label.
Fanboys (2009)
In 1999, Star Wars fanatics take a cross-country trip to George Lucas' Skywalker Ranch so their dying friend can see a screening of The Phantom Menace before its release.