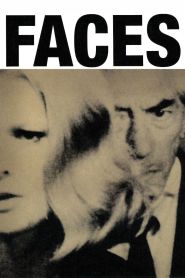 General Information
Glossary: F
Released Year: 1968
Runtime: 130 minutes
Genre: Drama
Directors: John Cassavetes
Casts: Seymour Cassel, Gena Rowlands, Val Avery, John Marley, Laurie Mock, Lynn Carlin, Fred Draper, Dorothy Gulliver, Joanne Moore Jordan, Darlene Conley, Gene Darfler, Elizabeth Deering
IMDB: Faces (1968)
Sponsored Links
Ratings
User Rating:
IMDB Rating:
7.7
Reviews
Chicago Sun-Times

-

John Cassavetes' Faces is the sort of film that makes you want to grab people by the neck and drag them into the theater and shout: "Here!" It would be a triumphant shout.

Chicago Tribune

-

This is one of the great alternative masterpieces of the American cinema. In many ways, Cassavetes' most important film.

The A.V. Club

-

Partly improvised, partly scripted, and partly somewhere between the two, Cassavetes' films have frequently been likened to jazz. Faces bears the stamp of its particular era's jazz; it trades in long stretches of chaos, even ugliness, which produce unexpected passages of grace and beauty. As punishing as that ugliness can be, the graceful bits stick in the memory.

The New York Times

-

A really important movie about the American class, generation and marriage abyss.

LarsenOnFilm

-

There is a lot of joy in Faces—John Cassavetes' second real "Cassavetes" film, 10 years after Shadows—and there is also a lot of anger. Often there's a drunken combination of the two. But no matter what emotion dominates, the movie itself has the same edge, the same itchiness. It's constantly scratching its own skin.
Faces (1968)
Middle-aged suburban husband Richard abruptly tells his wife, Maria, that he wants a divorce. As Richard takes up with a younger woman, Maria enjoys a night on the town with her friends and meets a younger man. As the couple and those around them confront a seemingly futile search for what they've lost -- love, excitement, passion -- this classic American independent film explores themes of aging and alienation.