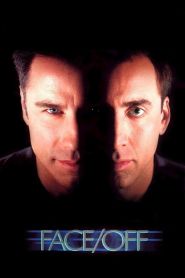 General Information
Glossary: F
Released Year: 1997
Runtime: 138 minutes
Genre: Action, Crime, Thriller
Directors: John Woo
Writers: Mike Werb, Michael Colleary
Casts: Nicolas Cage, John Travolta, Nick Cassavetes, Colm Feore, Tommy Flanagan, John Carroll Lynch, Kirk Baltz, Harve Presnell, CCH Pounder, Thomas Jane, Joan Allen, Chris Bauer, Alessandro Nivola, Lisa Boyle, Danny Masterson, Margaret Cho, Robert Wisdom, Matt Ross, Gina Gershon, Dominique Swain, Myles Jeffrey, James Denton, Paul Hipp, David McCurley, Linda Hoffman, Romy Windsor, Lauren Sinclair
IMDB: FaceOff (1997)
Sponsored Links
Ratings
User Rating:
IMDB Rating:
7.3
Reviews
Rolling Stone

-

Exciting and then some, Face/Off blends the director's supercharged images of balletic brutality and spiritual catharsis with an off-the-wall humor that allows John Travolta and Nicolas Cage to really let it rip.

Chicago Reader

-

Woo's third Hollywood movie, Face/Off, is the first to balance his visual imagination with the emotional intensity of his Hong Kong films.

The New York Times

-

Before we go numb from such prefab excitement, here comes a mega-movie that actually delivers what mega-movies promise: strong characters, smart plotting, breathless action and a gimmick that hasn't been seen before.

Washington Post

-

A delirious mixture of spectacular gun battles, furious explosions and breathtaking stunt work, it's also one of the strangest stories to ever get the green light at a Hollywood studio. You have to take your hat off to Paramount Studios for allowing such inspired weirdness to see the light of day.

Washington Post

-

As an example of the art of casting, the movie is brilliantly engineered. It allows two major stars to each play the showy villain for a time, and also for each to do an imitation of the other.
FaceOff (1997)
An antiterrorism agent goes under the knife to acquire the likeness of a terrorist and gather details about a bombing plot. When the terrorist escapes custody, he undergoes surgery to look like the agent so he can get close to the agent's family.