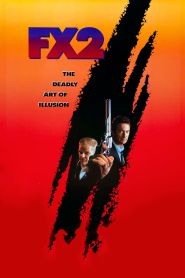 General Information
Glossary: F
Released Year: 1991
Runtime: 108 minutes
Genre: Action, Adventure, Comedy, Thriller
Directors: Richard Franklin
Writers: Bill Condon
Casts: Rachel Ticotin, Brian Dennehy, Joanna Gleason, Kevin J. O'Connor, Bryan Brown, Philip Bosco, Philip Akin, Dwayne McLean, Damir Andrei, Tom Mason, Dominic Zamprogna, Lee Broker, Jossie DeGuzman, Caroline Yeager, John Walsh, Peter Boretski, Lisa Fallon
IMDB: F/X2 (1991)
Sponsored Links
Ratings
User Rating:
IMDB Rating:
5.9
Reviews
Los Angeles Times

-

The craftsmanship that went into the making of this film has to have been formidable, yet a key part of its enjoyment is its throwaway, unpretentious charm.

Boston Globe

-

Brown and Dennehy aren't teen-age, they're not mutants, they're not ninjas, they're not even turtles, but they're just as entertaining the second time around, and of how many sequels can that be said? [10 May 1991, p.30]

Chicago Tribune

-

FX 2 is entertaining enough, but lacks the zip and wit of the original.

Washington Post

-

The story line is little more than a shiny hat for holding the high-tech rabbits. Still, it's an enjoyable bit of smoke and mirrors, thanks to the decency and resourcefulness of its hero.

Empire

-

It's all totally farfetched and skates imperturbably over several questions of logic that will spring unbidden to the most accepting mind. But it's entertaining, inconsequential fun.
F/X2 (1991)
F/X man Rollie Tyler is now a toymaker. Mike, the ex-husband of his girlfriend Kim, is a cop. He asks Rollie to help catch a killer. The operation goes well until some unknown man kills both the killer and Mike. Mike's boss, Silak says it was the killer who killed Mike but Rollie knows it wasn't. Obviously, Silak is involved with Mike's death, so he calls on Leo McCarthy, the cop from the last movie, who is now a P.I., for help and they discover it's not just Silak they have to worry about.