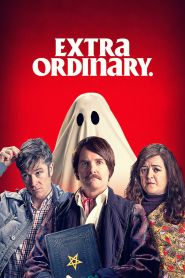 General Information
Glossary: E
Released Year: 2019
Runtime: 94 minutes
Genre: Comedy, Fantasy, Horror
Directors: Mike Ahern, Enda Loughman
Writers: Mike Ahern, Enda Loughman
Casts: Jamie Beamish, Siobhan McSweeney, Risteard Cooper, Will Forte, Carrie Crowley, Claudia O'Doherty, Barry Ward, Maeve Higgins, Terri Chandler, Emma Coleman, Mary McEvoy
IMDB: Extra Ordinary (2019)
Sponsored Links
Ratings
User Rating:
IMDB Rating:
6.4
Reviews
Film Threat

-

Those expecting that a movie about an occult sacrifice to ever become scary will be disappointed with Extra Ordinary. The filmmakers use the trappings of that kind of film for an all-out comedy. Thanks to its nonstop jokes, strong, likable characters, and marvelous cast the movie is hysterical.

Los Angeles Times

-

Like those cheeky genre-splicing comedies that came before it, the Ahern-Loughman collaboration doesn't merely goose the boundary between charming and outrageous, it gleefully tramples it into oblivion.

Austin Chronicle

-

It's a scrummy omelette of a movie, a dish that's off the menu. The ingredients are unorthodox, but they come together in an uproarious way. As a Dubliner would say, it's absolute gas.

The A.V. Club

-

Some jokes may dissipate quickly, but its unusual warmth lingers in the air like a friendly ghost.

San Francisco Chronicle

-

Armed with wit and charm to spare, Extra Ordinary is joyful and creative and deserves to find an audience — in this world or the next.
Extra Ordinary (2019)
A driving instructor must use her other-worldly gifts to save a lonely man's daughter from a rock star looking to use her for Satanic purposes.