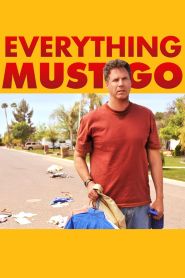 General Information
Glossary: E
Released Year: 2010
Runtime: 97 minutes
Genre: Comedy, Drama
Directors: Dan Rush
Casts: Michael Peña, Will Ferrell, Glenn Howerton, Stephen Root, Rebecca Hall, Laura Dern, Christopher Jordan Wallace, Rosalie Michaels, Argos MacCallum, Todd Bryant, Jason Spisak, Scott Takeda, Matthew Dearing, Leeann Dearing, Andy McDermott, Leslea Fisher, Annie Boon
IMDB: Everything Must Go (2010)
Sponsored Links
Ratings
User Rating:
IMDB Rating:
6.4
Reviews
Orlando Sentinel

-

It's a bleak yet optimistic film, and Ferrell perfectly underplays his Carver anti-hero and delivers a rich, layered and subtle performance. And a funny one.

Salon

-

It's refreshingly honest, depicts the kinds of American lives not often seen on-screen and shows us a familiar star in a striking new light.

New York Magazine (Vulture)

-

That lawn with its scraps of a ruined life is a setting both satirical and poignant, and Will Ferrell gives a performance of Chekhovian depth.

Tampa Bay Times

-

It's a very good performance that isn't for the "Talladega Nights" crowd and indie audiences can appreciate that.

IndieWire

-

The material, however, takes a Raymond Carver short story and plays it almost too straight. Ferrell looks uncomfortable, but not amusingly so.
Everything Must Go (2010)
When an alcoholic relapses, causing him to lose his wife and his job, he holds a yard sale on his front lawn in an attempt to start over. A new neighbor might be the key to his return to form.