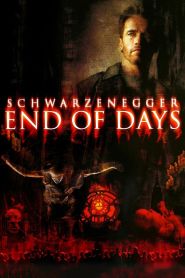 General Information
Glossary: E
Released Year: 1999
Runtime: 121 minutes
Genre: Action, Fantasy, Horror, Thriller
Directors: Peter Hyams
Writers: Andrew W. Marlowe
Casts: Miriam Margolyes, Mark Margolis, CCH Pounder, Arnold Schwarzenegger, Kevin Pollak, Udo Kier, Robert Lesser, Gabriel Byrne, Luciano Miele, Robin Tunney, Rod Steiger, Derrick O'Connor, Victor Varnado, Jonny Bogris, Jack Shearer, Michael O'Hagan, Walter von Huene, Eve Sigall, David Weisenberg, Rainer Judd
IMDB: End of Days (1999)
Sponsored Links
Ratings
User Rating:
IMDB Rating:
5.7
Reviews
Entertainment Weekly

-

Frequently silly, yet eminently more watchable than such leaden Schwarzenegger efforts as ''Eraser.''

New York Post

-

A hokey, overblown and deeply unsatisfying movie.

Film.com

-

Beginnings don't come much more lurid than this, and the rest of End of Days never quite reaches this level of flat-out wildness again.

Chicago Reader

-

Peter Hyams, a pretty good cinematographer but a mediocre director, goes to work on a script by Andrew W. Marlowe that's designed to carry us from one bit of hyperbole to the next.

Portland Oregonian

-

Best laugh at the movies all autumn.
End of Days (1999)
On December 28th, 1999, the citizens of New York City are getting ready for the turn of the millennium. However, the Devil decides to crash the party by coming to the city, inhabiting a man's body, and searching for his chosen bride, a 20-year-old woman named Christine York. The world will end, and the only hope lies within an atheist called Jericho Cane.