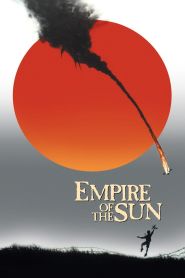 General Information
Glossary: E
Released Year: 1987
Runtime: 153 minutes
Genre: Drama, History, War
Directors: Steven Spielberg
Casts: Ben Stiller, John Malkovich, Rupert Frazer, Christian Bale, Joe Pantoliano, Peter Galea, Leslie Phillips, Miranda Richardson, Nigel Havers, Ralph Seymour, Masatō Ibu, Takatarô Kataoka, David Neidorf, James Walker, Robert Stephens, Guts Ishimatsu, Ralph Michael, Emily Richard, Zhai Nai She, Emma Piper, Jack Dearlove, Anna Turner, Ann Castle, Yvonne Gilan, Sybil Maas, Barrie Houghton
IMDB: Empire of the Sun (1987)
Sponsored Links
Ratings
User Rating:
IMDB Rating:
7.8
Reviews
Empire

-

Spielberg's technical ability is very clear, with much to appreciate on close examination.

The New York Times

-

A visual splendor, a heroic adventurousness and an immense scope that make it unforgettable.

Time

-

Spielberg has energized each frame with allusive legerdemain and an intelligent density of images and emotions.

ReelViews

-

Empire of the Sun remains a solidly engaging story of heroism in the face of adversity, as filtered through the eyes of a boy obsessed with planes and flight.

Variety

-

It is up to young English thesp Bale to engage the viewer's interest, which he does superbly.
Empire of the Sun (1987)
Jamie Graham, a privileged English boy, is living in Shanghai when the Japanese invade and force all foreigners into prison camps. Jamie is captured with an American sailor named Basie, who looks out for him while they are in the camp together. Even though he is separated from his parents and in a hostile environment, Jamie maintains his dignity and youthful spirits, providing a beacon of hope for the others held captive with him.