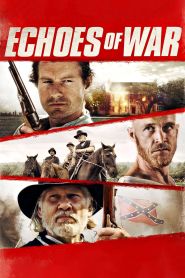 General Information
Glossary: E
Released Year: 2015
Runtime: 100 minutes
Genre: Drama, Thriller, Western
Directors: Kane Senes
Writers: Kane Senes, John Chriss
Casts: James Badge Dale, Ethan Embry, William Forsythe, Ryan O'Nan, Rhys Wakefield, Maika Monroe, Beth Broderick, Owen Teague
IMDB: Echoes of War (2015) - IMDB
Sponsored Links
Ratings
User Rating:
IMDB Rating:
5.4
Reviews
The New York Times

-

The scriptwriters, Kane Senes (who also directed) and John Chriss, keep the family secrets too bottled up, but the actors, who include William Forsythe as the McCluskey patriarch, play it with dark vigor.

Los Angeles Times

-

While all the naturalistic overtones might suggest faith-based Terrence Malick, those committed performances keep the film involving, however recognizably those echoes might resonate.

The Dissolve

-

Most of Echoes Of War amounts to Hints Of Aggression, with the film struggling to find enough incident to reach feature length.

Movie Nation

-

Echoes of War needs prettier visuals and bigger ideas, because the dialogue is too formulaic and the violence to come is entirely too predictable to hold our interest for 100 minutes.

RogerEbert.com

-

I could not see it as anything more than a giant bore that presents viewers with the most familiar plot devices imaginable but fails to present them in a way that makes them worth sitting through once again.
Echoes of War (2015)
A Civil War veteran returns home to the quiet countryside, only to find himself embroiled in a conflict between his family and the brutish cattle rancher harassing them.