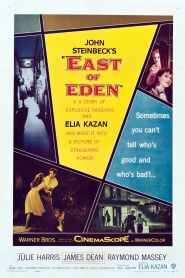 General Information
Glossary: E
Released Year: 1955
Runtime: 115 minutes
Genre: Drama, Romance
Directors: Elia Kazan
Casts: Lois Smith, Burl Ives, Ken Miller, Lester Dorr, Scott Seaton, Frank Baker, John George, Charles Sherlock, Sailor Vincent, Max Wagner, Chalky Williams, Gil Perkins, Edward Clark, Effie Laird, Nick Dennis, Richard Garrick, Timothy Carey, Robert Foulk, Ramsay Hill, Gail Kobe, Roger Creed, Lou Marcelle, Frank Mazzola, Henry Rowland, Sid Troy, Sam Harris, Tex Holden, Earle Hodgins, John Beradino, Hal Taggart, Jonathan Haze, Julie Harris, Jo Van Fleet, Richard Davalos, Lonny Chapman, Rose Plumer, Raymond Massey, Wheaton Chambers, Chief Leonard George, Franklyn Farnum, Julian Rivero, Barbara Baxley, Albert Dekker, Harry Cording, Al Ferguson, Edward McNally, James Dean, Harold Gordon, Abdullah Abbas, Joe Brooks, Jack Carr, Joe Dougherty, Robert Gardett, Billy Mahan, Lillian West, Cliff Fields, Patricia Prest, Mickey Roth, John Halloran, Charles Anthony Hughes, William Phillips, Mario Siletti, Ralph Moratz
IMDB: East of Eden (1955)
Sponsored Links
Ratings
User Rating:
IMDB Rating:
7.9
Reviews
TV Guide Magazine

-

A powerful film whose influence can be seen in Hud and most other antihero films, East of Eden is masterfully directed by Kazan. All the principals give riveting performances, but it was Dean who emerged as an overnight sensation. Eden also features a quintessentially hardbitten performance from Van Fleet, who won an Oscar for her pains.

Film Threat

-

Never in the history of movies was a film so absolutely enraptured by its subject than East of Eden is with Dean. The camera desperately records his every twist and turn of emotion as if preserving it were of the utmost importance.

Variety

-

Powerfully somber dramatics have been captured from the pages of John Steinbeck's East of ed en and put on film by Elia Kazan. It is a tour de force for the director's penchant for hard-hitting forays with life.

Los Angeles Times

-

Not only one of Kazan's richest films and Dean's first significant role, it is also arguably the actor's best performance. [10 June 2005, p.E12]

Empire

-

Steinbeck himself praised it for reaching the parts his book couldn't. Need a better endorsement?
East of Eden (1955)
In the Salinas Valley, in and around World War I, Cal Trask feels he must compete against overwhelming odds with his brother for the love of their father. Cal is frustrated at every turn, from his reaction to the war, to how to get ahead in business and in life, to how to relate to estranged mother.