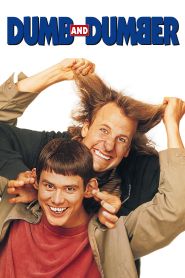 General Information
Glossary: D
Released Year: 1994
Runtime: 107 minutes
Genre: Comedy
Directors: Bobby Farrelly, Peter Farrelly
Writers: Bennett Yellin, Bobby Farrelly, Peter Farrelly
Casts: Fred Stoller, Connie Sawyer, Lauren Holly, Jim Carrey, Mike Starr, Nancy Barker, Mark Charpentier, Harland Williams, Lin Shaye, Charles Rahi Chun, Jeff Daniels, Felton Perry, Teri Garr, Karen Duffy, Charles Rocket, Victoria Rowell, Brady Bluhm, Cam Neely, Rob Moran, Joe Baker, Hank Brandt, Brad Lockerman, Kathryn Frick, Zen Gesner, Lawrence Kopp, Clint Allen, Mike Watkis, Diane Kinerk, Lisa Stothard, Sean Gildea, Helen Boll, Hillary Matthews, Karen Ingram, Jesse Borja, Vene L. Arcoraci, Anna Anka, Samantha Carpel, Elaine Wood, Bruce Bowns, Denise Vienne, Nancy Farrelly, Catalina Izasa, Samatha Pearson, Ken Duvall, Cecile Krevoy, George Bedard, Bill Beauchene, Gary Sivertsen, John Stroehman, Terry Mullany, Brad Blank, Mark Miosky, Mike Cavallo, Tom Leasca, Kevin Sheehan, Kenny Griswold, Brian Mone, Brad Norton, Chris Spain, Paul Pelletier, Mark Levine, Billy Smith, James 'Sporty' Ahern, Jim Blake, Traci Adell, Anita Rice, Pam Nielson, Brad Lowder, Doug Caputo, James Horrocks, Clemens E. Franek, Marty Fresca, Valentina, Kirsten Maryott, Bryan Moss, Craig Patterson, Craig Patterson, Irene Santiago, Josh Shipley, John Yost
IMDB: Dumb & Dumber (1994) - IMDB
Sponsored Links
Ratings
User Rating:
IMDB Rating:
7.3
Reviews
San Francisco Chronicle

-

This wacky buddy road film... has a brilliant glow of intelligence behind the stupidness. It's easily the funniest movie of the year.

Variety

-

A flat-out celebration of stupidity, bodily functions and pratfalls. Yet the wholeheartedness of this descent into crude and rude humor is so good-natured and precise that it's hard not to partake in the guilty pleasures of the exercise.

Entertainment Weekly

-

There are limits to how much comic irony can be wrung out of the sight of two grown men acting like complete cretins.

The Globe and Mail (Toronto)

-

An atrocious movie. An offensively stupid movie. A movie so witless and so crammed with bathroom humour that you will be deeply thankful for the darkness that envelops you - it lets you hide the fact (disturbing as it is) that you do laugh at the antics of Jim Carrey and Jeff Daniels, in spite of yourself.

TV Guide Magazine

-

Underlying the slapstick, however, is an extravagant parody of American culture--bad taste, bad manners, the gushing sentimentality of Lloyd's daydreams, or the classic westward road trip, complete with diner scenes and archetypal rednecks.
Dumb & Dumber (1994)
Lloyd and Harry are two men whose stupidity is really indescribable. When Mary, a beautiful woman, loses an important suitcase with money before she leaves for Aspen, the two friends (who have found the suitcase) decide to return it to her. After some "adventures" they finally get to Aspen where, using the lost money they live it up and fight for Mary's heart.