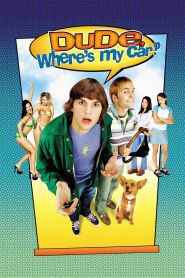 General Information
Glossary: D
Released Year: 2000
Runtime: 83 minutes
Genre: Comedy, Mystery, Sci-Fi
Directors: Danny Leiner
Casts: Seann William Scott, Andy Dick, Cleo King, Ashton Kutcher, Jennifer Garner, Hal Sparks, David Herman, Bob Clendenin, Fabio, Charlie O'Connell, Kristy Swanson, Marla Sokoloff, John Toles-Bey, Christian Middelthon, Dave Bannick, Turtle, Mary Lynn Rajskub, Kevin Christy, Kristoffer Ryan Winters
IMDB: Dude, Where's My Car (2000) - IMDB
Sponsored Links
Ratings
User Rating:
IMDB Rating:
5.5
Reviews
New York Daily News

-

What holds the movie together -- albeit tenuously -- is the surprisingly sweet-natured pairing of Jesse and Chester.

Los Angeles Times

-

There's a benign, peace-loving air about it all that forces you to accept and embrace the film's two central characters.

San Francisco Chronicle

-

Don't tell Mom, but everybody seems stoned.

Variety

-

Aimed squarely at adolescents who might find "Bill & Ted's Excellent Adventure" too intellectually taxing.

Film.com

-

Just another lame slacker comedy.
Dude, Where's My Car (2000)
Jesse and Chester, two bumbling stoners, wake up one morning from a night of partying and cannot remember where they parked their car. They encounter a variety of people while looking for it, including their angry girlfriends, an angry street gang, a transexual stripper, a cult of alien seeking fanatics, and aliens in human form looking for a mystical device that could save or destroy the world.