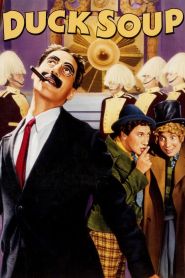 General Information
Glossary: D
Released Year: 1933
Runtime: 69 minutes
Genre: Comedy, Music, War
Directors: Leo McCarey
Casts: Dale Van Sickel, Charles Middleton, Louis Calhern, Leonid Kinskey, Edward Arnold, Wade Boteler, Davison Clark, Eric Mayne, Florence Wix, William Worthington, Edward LeSaint, Joseph Crehan, Edwin Maxwell, Edmund Mortimer, Groucho Marx, Harpo Marx, Chico Marx, Zeppo Marx, Margaret Dumont, Raquel Torres, Edmund Breese, Edgar Kennedy, Sidney Bracey, E.H. Calvert, Louise Closser Hale, Carrie Daumery, Maude Turner Gordon, Mario Dominici, Charles West, Verna Hillie, George MacQuarrie, Frederick Sullivan, Dennis O'Keefe, Leo Sulky
IMDB: Duck Soup (1933)
Sponsored Links
Ratings
User Rating:
IMDB Rating:
7.8
Reviews
Chicago Sun-Times

-

There is an odd moment when Harpo shows Groucho a doghouse tattooed on his stomach, and in a special effect a real dog emerges and barks at him. The brothers broke the classical structure of movie comedy and glued it back again haphazardly, and nothing was ever the same.

The Guardian

-

The sheer silliness is inspired.

Empire

-

The Marx brothers on top form with their quickfire comedy and banter.

TV Guide Magazine

-

A masterpiece...DUCK SOUP is perhaps the best, and funniest, depiction of the absurdities of war ever committed to celluloid.

Time Out

-

Genius just about covers it.
Duck Soup (1933)
Rufus T. Firefly is named president/dictator of bankrupt Freedonia and declares war on neighboring Sylvania over the love of wealthy Mrs. Teasdale.