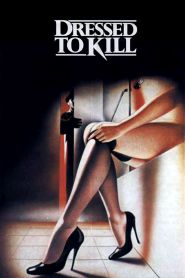 General Information
Glossary: D
Released Year: 1980
Runtime: 105 minutes
Genre: Mystery, Thriller
Directors: Brian De Palma
Writers: Brian De Palma
Casts: Michael Caine, David Margulies, Dennis Franz, Angie Dickinson, Nancy Allen, Keith Gordon, Brandon Maggart, Anneka Di Lorenzo, Ken Baker, Susanna Clemm, Amalie Collier, Mary Davenport, Norman Evans, Robbie L. McDermott
IMDB: Dressed to Kill (1980)
Sponsored Links
Ratings
User Rating:
IMDB Rating:
7.1
Reviews
The Guardian

-

This ingenious erotic thriller full of unexpected shocks is best seen with no foreknowledge and even better at a second viewing.

Slant Magazine

-

The pleasures of Dressed to Kill flat out do not translate to print, but for what it's worth it is the most perfectly-directed film ever, provided you, like me, bust into orgasmic laughter when De Palma's double-shuffling editing makes it seem like the only threat Nancy Allen and a wooden cop can see boarding the subway is a 250-pound bag lady.

The A.V. Club

-

It's easy to see why people hated a movie as arch, violent, and glib as Dressed To Kill, and equally clear that this is exactly what De Palma was going for with all the gusto he could muster.

The New York Times

-

A witty, romantic, psychological horror film and it's almost as rewarding as a successful analysis...The fun is not in logic but watching how Mr. De Palma successfully tops himself as he goes along, and the fun lasts from the sexy, comic opening sequence right through to the film's several endings.

Variety

-

Brian De Palma goes right for the audience jugular in Dressed to Kill, a stylish exercise in ersatz-Hitchcock suspense-terror. Despite some major structural weaknesses, the cannily manipulated combination of mystery, gore and kinky sex adds up to a slick commercial package.
Dressed to Kill (1980)
A mysterious, tall, blonde woman wearing sunglasses murders one of a psychiatrist's patients, and now she's after the prostitute who witnessed it.