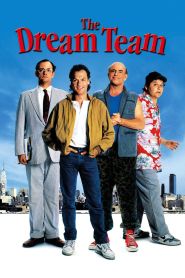 General Information
Glossary: T
Released Year: 1989
Runtime: 113 minutes
Genre: Comedy, Crime, Thriller
Directors: Howard Zieff
Writers: David Loucka, Jon Connolly
Casts: James Remar, Michael Keaton, Lorraine Bracco, Philip Bosco, Christopher Lloyd, Peter Boyle, Stephen Furst, Dennis Boutsikaris, Milo O'Shea
IMDB: The Dream Team (1989) - IMDB
Sponsored Links
Ratings
User Rating:
IMDB Rating:
6.5
Reviews
Washington Post

-

A surprisingly amiable romp about a zany quartet of escaped mental patients four who flew out of the cuckoo's nest.

Time Out

-

Despite the barrage of one-liners and almost farcial plot twists, Zieff's light touch and some unselfish ensemble acting make this team genuinely endearing.

Empire

-

A well-put together team performance, with enough in-jokes and self-effacement to steer clear of any detours into bad taste.

TV Guide Magazine

-

Writers Jon Connelly and David Loucka have fashioned a script that works largely because of the efforts of the four capable and credible actors who comprise The Dream Team: Christopher LLoyd, Stephen Furst, Peter Boyle, and Michael Keaton.

Variety

-

The Dream Team is a hokey comedy that basically reduces mental illness to a grab bag of quirky schtick. Yet with a quartet of gifted comic actors having a field day playing loonies on the loose in Manhattan, much of that schtick is awfully funny.
The Dream Team (1989)
This morning they were playing ping-pong in the hospital rec room. Now they're lost in New York and framed for murder. This was never covered in group therapy.