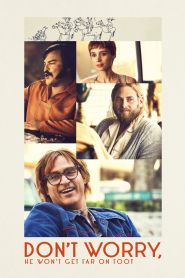 General Information
Glossary: D
Released Year: 2018
Runtime: 113 minutes
Genre: Biography, Comedy, Drama
Directors: Gus Van Sant
Casts: Jonah Hill, Emilio Rivera, Jack Black, Joaquin Phoenix, Jim Kwiatkowski, Mark Webber, Jessica Jade Andres, Michael Chow, Ron Perkins, Gus Van Sant, Rooney Mara, Udo Kier, Heather Matarazzo, Helen Slayton-Hughes, John Bishop, Mireille Enos, Nick Rutherford, Betsy Sodaro, Robby Rasmussen, Kyle Dunnigan, Ayden Mayeri, Carrie Brownstein, Jonathan Erickson Eisley, Peter Banifaz, Sunny Suljic, Connor Skific, Beth Ditto, Olivia Hamilton, Angelique Rivera, Ramy Youssef, Ronnie Clark, Kim Gordon, Tony Greenhand, Ronnie Adrian, Ethan Tindukasiri, Cree Kawa, Nolan Gross, Leo Phoenix, Ken Tatafu, Rebecca Rittenhouse, Anne Lane, Torian Miller, Rebecca Field, Alexandra W.B. Malick, Santina Muha, Daniella Garcia, Christopher Thornton, Edgar Momplaisir, Matt Bennett, Joseph Baken, Ryan Meharry, Scott Alan Berk, Cathy Fielding, Toni Charline, Jessica Uhler, Jedediah Jones, Lou Wilson, John Balma, Maxwele D'Angelo, Bruce Richmond Chambers, Ethan Michael Mora, Kade Martinez, Brady Nuthall, Isabella Baltodano, Erica Jade Goldsmith, Suzy Sincock, Sheila Brown, Jeffrey Gamble, Patricia Widuch, Dion Earl, Kelli McNeil
IMDB: Don't Worry, He Won't Get Far on Foot (2018)
Sponsored Links
Ratings
User Rating:
IMDB Rating:
7.0
Reviews
The Hollywood Reporter

-

In a terrific performance that encompasses countless attitudinal, emotional and physical shifts, Joaquin Phoenix eases into the lead role with equal parts raw pain, ironic humor and eventual mellow acceptance.

Screen International

-

The movie radiates considerable compassion, sensitively addressing issues including addiction, recovery and forgiveness. Joaquin Phoenix's raw, wiry performance never strives for greatness, which only makes it all the more affecting.

Variety

-

Some will find it entirely too sentimental, others a tad repetitive (Callahan tends to repeat the same stories), but it's hard to argue with a movie that celebrates the kind of recovery he went through.

New York Magazine (Vulture)

-

What makes Phoenix's performance especially exciting is that you're watching not just a character go from chaos to self-possession but an actor, too.

The A.V. Club

-

The uplifting nature of this true story naturally triggers Van Sant's pesky sentimentality, with scenes that recall the hug-it-out, therapeutic catharsis of Good Will Hunting. But this is still the writer-director's most formally interesting, emotionally involving movie in a decade, however little that may really be saying.
Don't Worry, He Won't Get Far on Foot (2018)
On the rocky path to sobriety after a life-changing accident, John Callahan discovers the healing power of art, willing his injured hands into drawing hilarious, often controversial cartoons, which bring him a new lease on life.