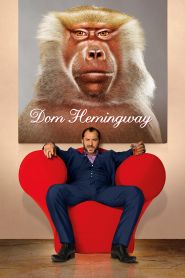 General Information
Glossary: D
Released Year: 2013
Runtime: 93 minutes
Genre: Comedy, Crime, Drama
Directors: Richard Shepard
Writers: Richard Shepard
Casts: Richard E. Grant, Jude Law, Emma Lock, Kerry Condon, Demián Bichir, Matthew C. Martino, Emilia Clarke, Mădălina Diana Ghenea, Deborah Rosan, Vic Waghorn, Nathan Stewart-Jarrett, Luca Franzoni, Hayley-Marie Coppin
IMDB: Dom Hemingway (2013) - IMDB
Sponsored Links
Ratings
User Rating:
IMDB Rating:
6.2
Reviews
Film.com

-

There are countless clever dialogue parries as well as some quite outstanding rants. It definitely takes the movie outside of the world of pure realism, but the theatricality is well worth it.

The Playlist

-

While there's no doubt that Shepard's film is frequently laugh-out-loud funny and impressively, wittily written, with a finely tuned ear for the perfect bit of foul language, it stumbles slightly on the story side.

Variety

-

Shepard balances a livelier-than-life script with striking, super-saturated images, which makes the film feel bigger than it is.

Total Film

-

Shepard's film is fun but forgettable in the first hour, then disappointing in the final third. But Law's raucous turn keeps you watching.

The Hollywood Reporter

-

Richard Shepard's film is far from dull, but it just doesn't feel like the real thing, more like an artificial construct inspired by pumped-up crime favorites from a couple of decades ago.
Dom Hemingway (2013)
After spending 12 years in prison for keeping his mouth shut, notorious safe-cracker Dom Hemingway is back on the streets of London looking to collect what he's owed.