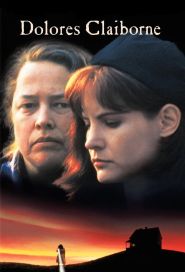 General Information
Glossary: D
Released Year: 1995
Runtime: 132 minutes
Genre: Crime, Drama, Mystery, Thriller
Directors: Taylor Hackford
Casts: Kathy Bates, Christopher Plummer, Bob Gunton, John C. Reilly, Eric Bogosian, David Strathairn, Jennifer Jason Leigh, Judy Parfitt, Ellen Muth
IMDB: Dolores Claiborne (1995)
Sponsored Links
Ratings
User Rating:
IMDB Rating:
7.4
Reviews
Washington Post

-

The movie is given unusually wide dimension by director Taylor Hackford, who creates a subtly scary drama that emphasizes character over caricature (in most cases) and plausibility over formulaic stupidity (again, in most cases).

Chicago Reader

-

Although most of the elements are familiar and virtually all of the characters are unpleasant, this is a better than average melodrama--mainly because of the volcanic power of Kathy Bates in the title role.

Chicago Sun-Times

-

It's sometimes distracting to tell a story in flashbacks and memories; the story line gets sidetracked. The director, Taylor Hackford, is successful, however, in making the present seem to flow into and out of the past.

ReelViews

-

Although the forced ending, which seems deigned to create an unnatural moment of triumph, weakens the climactic catharsis, it doesn't diminish the naked honesty which forms the foundation of Dolores Claiborne.

San Francisco Chronicle

-

The mysteries of Dolores Claiborne are never gripping enough to consume an audience, and there are few, if any, surprises along the way. But the women are wonderful and reason enough to see the picture.
Dolores Claiborne (1995)
Dolores Claiborne was accused of killing her abusive husband twenty years ago, but the court's findings were inconclusive and she was allowed to walk free. Now she has been accused of killing her employer, Vera Donovan, and this time there is a witness who can place her at the scene of the crime. Things look bad for Dolores when her daughter Selena, a successful Manhattan magazine writer, returns to cover the story.