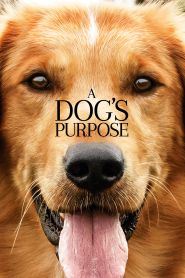 General Information
Glossary: A
Released Year: 2017
Runtime: 100 minutes
Genre: Adventure, Comedy, Drama, Family, Fantasy
Directors: Lasse Hallström
Writers: Wallace Wolodarsky
Casts: Peter Kelamis, Dennis Quaid, Paul Jarrett, Josh Gad, Gabrielle Rose, John Ortiz, Luke Kirby, Kwesi Ameyaw, John Bluethner, Chris Webb, Caroline Cave, Nicole LaPlaca, Kalyn Bomback, Logan Miller, Britt Robertson, Juliet Rylance, Peggy Lipton, Primo Allon, Kelly-Ruth Mercier, Michael Bofshever, Michael Patric, Naomi Frenette, Jane McGregor, K.J. Apa, Kirby Howell-Baptiste, Pooch Hall, Anita Daher, Alicia Johnston, Brooke Warrington, Bryce Gheisar, Robert Mann, Ron Verwymeren, David J. Lyle, Cory Wojcik, Ross Douglas Noble, Andrew W. Nolan, Jordan Butterill, John C. MacDonald, Dean Monroe McKenzie, Brent Holtzman, Christopher Pearce, Violet Haas, Darcy Higginbotham, Danesha Lee, Dan De Jaeger, Reine Lecuyer, Rayna Ens-Armstrong, Mackenzie Thornton, Avery Thompson, Aidan Ritchie, Kenyan Alexander Walcot, Treyton Augustus Walcot, James Janssens, Paul Griggs, Grant Burr, Tom Young, Ronald Boyd Johnson, Jim Kirby, Evan Martin, Tyson Wagner
IMDB: A Dog's Purpose (2017)
Sponsored Links
Ratings
User Rating:
IMDB Rating:
7.0
Reviews
New York Daily News

-

The film is both heartwarming and soul-shattering. Its theme of an unbreakable bond between man and his best friend is reminiscent of "My Dog Skip," "Homeward Bound" and "Old Yeller."

Variety

-

Viewed in a vacuum, it's hard to fault the movie's earnestness; Hallström's canine cinema pedigree (which includes the superior "Hachi: A Dog's Tale") shows through; and Rachel Portman's score is understandably sentimental without going completely saccharine.

The Hollywood Reporter

-

While the human performers are more than adequate, there's no doubt that the canine stars carry the day. Their utter irresistibility helps a long way in terms of getting past the corny plot machinations of A Dog's Purpose.

TheWrap

-

A Dog's Purpose offers many of the highlights of human-canine relations at their warmest and most affectionate, but the film chooses to skim on sun-dappled surfaces (Terry Stacey of "Elvis and Nixon" was the cinematographer) and sentimentality (Rachel Portman's score bombards the heartstrings) when it might have gone deeper

Movie Nation

-

It's all harmless enough, with the odd lump-in-the-throat moment as another dog meets his or her end. As a lifelong dog owner, I found the going rather grim.
A Dog's Purpose (2017)
A dog goes on quest to discover his purpose in life over the course of several lifetimes with multiple owners.