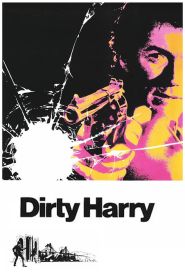 General Information
Glossary: D
Released Year: 1971
Runtime: 102 minutes
Genre: Action, Crime, Thriller
Directors: Don Siegel
Casts: Clint Eastwood, Angela Paton, Victor Paul, Reni Santoni, John Vernon, Josef Sommer, Debralee Scott, Richard Lawson, Raymond Johnson, David Gilliam, Woodrow Parfrey, Kate Harper, James W. Gavin, Max Gail, John Garber, Vince Deadrick Sr., Albert Popwell, Andrew Robinson, Lois Foraker, Ruth Kobart, John Mitchum, Al Dunlap, Tony Dario, Don Siegel, Larry Duran, John Larch, Kristoffer Tabori, Kathleen O'Malley, Scott Hale, Bob Harris, Christopher Pray, Jo De Winter, Mae Mercer, James Nolan, Chuck Hicks, Bill Couch, George Fargo, Harry Guardino, Maurice Argent, Lyn Edgington, William Paterson, Joy Carlin, Diana Davidson, Chuck Dorsett, Eddie Garrett, Don Haggerty, Laurie Mock, Ann Noland
IMDB: Dirty Harry (1971)
Sponsored Links
Ratings
User Rating:
IMDB Rating:
7.8
Reviews
Empire

-

It is also, of course, quite unrelentingly cool.

Time Out

-

Try to get Siegel's masterful camera rise out of your head: gun-happy Harry looming over his jabbering perp, who screams like a stuck pig as the shot recedes high into a dense night fog. This is not a cop film. It's a monster movie.

Chicago Reader

-

A crisp, beautifully paced film, full of Siegel's wonderful coups of cutting and framing.

The New York Times

-

The pleasures of this movie are abundant. The pacing is as swift as a speeding bullet. There are wonderfully evoked lived-in San Francisco locations... And there are splendid set pieces that showcase the perpetually-underrated Don Siegel's great skill a director. This film is efficient, unpretentious and much wittier and more stylish than your average cop movie.

Film Threat

-

I can see why this movie scared so many people. I'm fairly liberal and I find Clint's super-cop infinitely appealing. Imagine how this movie goes down with people who already have one foot in the door of the local militia or Klan auxiliary. Even Pauline Kæl would have to admit that politics aside, this is a pretty damn effective action movie. This is Clint at maybe his best looking and healthiest, and his Inspector Callahan is perhaps every rebel's dream.
Dirty Harry (1971)
When a madman dubbed 'Scorpio' terrorizes San Francisco, hard-nosed cop, Harry Callahan – famous for his take-no-prisoners approach to law enforcement – is tasked with hunting down the psychopath. Harry eventually collars Scorpio in the process of rescuing a kidnap victim, only to see him walk on technicalities. Now, the maverick detective is determined to nail the maniac himself.