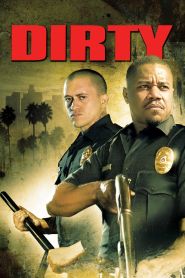 General Information
Glossary: D
Released Year: 2005
Runtime: 97 minutes
Genre: Crime, Drama, Thriller
Directors: Chris Fisher
Casts: Casey LaBow, Keith David, Wood Harris, Aimee Garcia, Kevin Grevioux, Clifton Collins Jr., Cole Hauser, Cesar Garcia, Tory Kittles, Brittany Daniel, Cuba Gooding Jr., Frank Alvarez, Robert LaSardo, Pat Healy, Николас Гонзалез, Nichole Galicia, Robert 'Lil Rob' Flores, Wyclef Jean, Gates McFadden, Terry Kennedy, Joseph McKelheer, Jen Martinez, Soledad St. Hilaire
IMDB: Dirty (2005)
Sponsored Links
Ratings
User Rating:
IMDB Rating:
5.6
Reviews
Variety

-

The cop genre receives a shot of adrenaline in helmer Chris Fisher's Dirty, a no-nonsense dramatic response to the LAPD Rampart scandals of the '90s.

L.A. Weekly

-

Like the best pulp, though, it gets its hooks into you faster than you can start to wonder why you should possibly care about what happens to any of its despicable characters, and, before you know it, you've been pulled deep into its Dantean vision.

Entertainment Weekly

-

When the florid speeches of volcanic rage and frustration draw to a close - and when Collins and Gooding complete their acting exercises - we still have no clue who these men are and what sent them down their intersecting moral dark alleys.

TV Guide Magazine

-

Desperate-to-shock slice of sleaze life.

Los Angeles Times

-

As good as the leads and the supporting cast are, and as much action as gets packed into the film's relatively brief running time, none of it draws us in dramatically.
Dirty (2005)
Two gangbangers-turned-cops try and cover up a scandal within the LAPD.