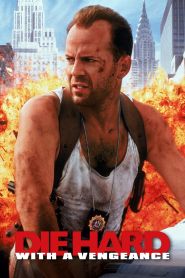 General Information
Glossary: D
Released Year: 1995
Runtime: 128 minutes
Genre: Action, Crime, Thriller
Directors: John McTiernan
Casts: Aldis Hodge, Samuel L. Jackson, Graham Greene, Bruce Willis, Jeremy Irons, Aasif Mandvi, Anthony Peck, Colleen Camp, Larry Bryggman, Nicholas Wyman, Sam Phillips, Kevin Chamberlin, Sharon Washington, Stephen Pearlman, Michael Alexander Jackson, Mischa Hausserman, Tony Halme, Michael Cristofer
IMDB: Die Hard With a Vengeance (1995)
Sponsored Links
Ratings
User Rating:
IMDB Rating:
7.6
Reviews
Empire

-

Despite a final, tacked-on helicopter denouement, it remains a gripping, relentless, supercharged slab of fun that knows no bounds - New York is its playground and the sky's the limit.

Chicago Sun-Times

-

Die Hard With a Vengeance is basically a wind-up action toy, cleverly made, and delivered with high energy. It delivers just what it advertises, with a vengeance.

Rolling Stone

-

It's a tense, terrifically funny action dazzler with a wow level in special effects that will be hard to top.

San Francisco Chronicle

-

It should come as no surprise that Jonathan Hensleigh's script was not originally written as a "Die Hard" film. The blend of "Die Hard" and "With a Vengeance" is sometimes smooth but never complete. It's as if "Die Hard" were wearing a rented tux.

San Francisco Examiner

-

Director John McTiernan outdoes the previous "Die Hards" (McTiernan directed the first, Renny Harlin the second) with machinery, stunts, noise, bullets and guts. Hand-held camerawork tweaks the audience's sense of anxiety further, and for the most part it works well.
Die Hard With a Vengeance (1995)
New York detective John McClane is back and kicking bad-guy butt in the third installment of this action-packed series, which finds him teaming with civilian Zeus Carver to prevent the loss of innocent lives. McClane thought he'd seen it all, until a genius named Simon engages McClane, his new "partner" -- and his beloved city -- in a deadly game that demands their concentration.