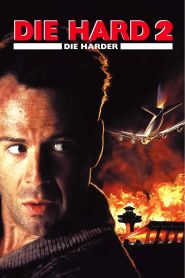 General Information
Glossary: D
Released Year: 1990
Runtime: 124 minutes
Genre: Action, Crime, Thriller
Directors: Renny Harlin
Casts: John Leguizamo, Bruce Willis, William Sadler, Tom Everett, Mickie McGowan, Franco Nero, Colm Meaney, Mark Boone Junior, Tom Bower, Bonnie Bedelia, William Atherton, Reginald VelJohnson, John Amos, Dennis Franz, Art Evans, Fred Dalton Thompson, Sheila McCarthy, Don Harvey, Tony Ganios, Peter Nelson, Robert Patrick, Mick Cunningham, Tom Verica, John Costelloe, Vondie Curtis-Hall, Ken Baldwin, Danny Weselis, Gregg Kovan, Don Charles McGovern, Danial Donai, Jeff Langton, Bob 'Rocky' Cheli, Dale Jacoby, Vincent Mazella Jr., Patrick O'Neal, Ben Lemon, Jason Ross-Azikiwe, Anthony Droz, Michael Francis Clarke, Steve Pershing, Sherry Bilsing, Karla Tamburrelli, Jeanne Bates, Charles Lanyer, Rob Steinberg, Robert Sacchi, Amanda Hillwood, Edward Mannix
IMDB: Die Hard 2 (1990)
Sponsored Links
Ratings
User Rating:
IMDB Rating:
7.1
Reviews
Chicago Sun-Times

-

Because Die Hard 2 is so skillfully constructed and well-directed, it develops a momentum that carries it past several credibility gaps that might have capsized a lesser film.

ReelViews

-

It's not as crisply directed, and the plot holes are easier to find, but Die Hard 2 is filled with the same sense of good-natured, wisecracking fun that infused the original.

Washington Post

-

It's rambunctiously entertaining, a loop-de-loopy bumper car ride through a firecracker sky, all bright lights, sonic booms and impossible heroics.

Chicago Tribune

-

A smart, spectacular and rousing piece of work, one that strains against but can't quite escape the natural limitations imposed by a sequel. [4 July 1990, p.C1]

Variety

-

Die Hard 2 lacks the inventivenes of the original but compensates with relentless action.
Die Hard 2 (1990)
John McClane is an off-duty cop gripped with a feeling of déjà vu when on a snowy Christmas Eve in the nation's capital, terrorists seize a major international airport, holding thousands of holiday travelers hostage. Renegade military commandos led by a murderous rogue officer plot to rescue a drug lord from justice and are prepared for every contingency except one: McClane's smart-mouthed heroics.