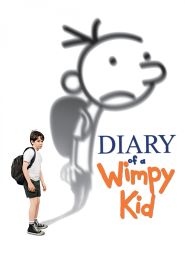 General Information
Glossary: D
Released Year: 2010
Runtime: 92 minutes
Genre: Comedy, Family
Directors: Thor Freudenthal
Casts: Cainan Wiebe, Chloë Grace Moretz, Cindy Busby, Karin Konoval, Gabrielle Rose, Cole Heppell, Madison Bell, Rachael Harris, Ryan Grantham, Zachary Gordon, Robert Capron, Steve Zahn, Devon Bostick, Connor Fielding, Owen Fielding, Karan Brar, Grayson Russell, Laine MacNeil, Alex Ferris, Andrew McNee, Belita Moreno, Rob LaBelle, Nicholas Carey, Samuel Patrick Chu, Donnie MacNeil, Samantha Page, Ava Hughes, Owen Best, Harrison Houde, Jennifer Clement, Raugi Yu, Jake D. Smith, Talon Dunbar, Naomi Dane, Willem Jacobson, Maxine Miller, Taya Clyne, Adom Osei, Rylee Stiles, Brett Dier, Brent Chapman, Jesse Wheeler, Paul Hubbard, Ethan Shankaruk, Jay Sidhu, Alicia Takase Lui, Sebastien Pentland-Hyde, Angelina Momoh, Kinua McWatt, Nathaniel Marten, Nikki Frazer, Sean Bygrave
IMDB: Diary of a Wimpy Kid (2010) - IMDB
Sponsored Links
Ratings
User Rating:
IMDB Rating:
6.2
Reviews
Chicago Sun-Times

-

It's nimble, bright and funny. It doesn't dumb down. It doesn't patronize. It knows something about human nature.

Entertainment Weekly

-

Does a great job of being in two places at once: In the head and gangly bodies of kids, and in the hearts of those of us who have survived grades 6-8.

Chicago Reader

-

It's eminently suitable for children, fully inhabiting their world and finding real laughs there without resorting to sentiment, condescension, or snarky in-jokes for the adults.

Orlando Sentinel

-

Crass, gross and juvenile in all the best (and worst) ways, Diary is aimed squarely at a tween "don't touch the cheese" demographic. And if you don't get it, maybe you're just too old for a good booger joke.

The Hollywood Reporter

-

A likable movie for kids that will make adults chuckle as well because of the movie's key ingredient -- wit.
Diary of a Wimpy Kid (2010)
Greg Heffley is headed for big things, but first he has to survive the scariest, most humiliating experience of any kid's life – middle school! That won't be easy, considering he's surrounded by hairy-freckled morons, wedgie-loving bullies and a moldy slice of cheese with nuclear cooties!