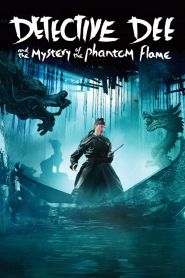 General Information
Glossary: D
Released Year: 2010
Runtime: 119 minutes
Genre: Action, Adventure, Drama, Mystery
Directors: Tsui Hark
Writers: Chen Kuo-Fu
Casts: Andy Lau, Tony Leung Ka-Fai, Carina Lau, Li Bingbing, Richard Ng, Deng Chao, Teddy Robin Kwan, Liu Jinshan, Yao Lu, Jean-Michel Casanova
IMDB: Detective Dee and the Mystery of the Phantom Flame (2010)
Sponsored Links
Ratings
User Rating:
IMDB Rating:
6.6
Reviews
Time

-

The movie is not just spectacle; it's got a tender, ultimately tragic love story and enough deadly political scheming to fill a Gaddafi playbook. Indeed, in its narrative cunning, luscious production design and martial-arts balletics, Detective Dee is up there with the first great kung-fu art film, King Hu's 1969 "A Touch of Zen." We'd call it "Crouching Tiger, Freakin' Masterpiece."

Movieline

-

I've seen Detective Dee twice now, and I still don't think I've taken the full measure of the visual nuttiness, and lushness, Tsui has packed in there.

Village Voice

-

Magnificent and cheesy, the latest and most proudly absurd of Chinese historical spectaculars, Detective Dee is a cinematic comic book for people who are sick of the mode.

Slant Magazine

-

Hark's new film is a consummately bizarre crowd-pleaser that throws everything at the viewer from makeshift plastic surgery by acupuncture to death by spontaneous combustion.

IndieWire

-

While there's a casual dissonance to each twist in its winding plot that results in a disconnected and emotionally vapid experience, Detective Dee unquestionably achieves the escapism it intends.
Detective Dee and the Mystery of the Phantom Flame (2010)
An exiled detective is recruited to solve a series of mysterious deaths that threaten to delay the inauguration of Empress Wu.