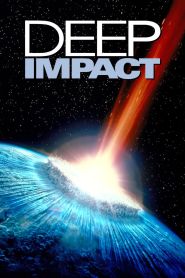 General Information
Glossary: D
Released Year: 1998
Runtime: 120 minutes
Genre: Action, Drama, Sci-Fi, Thriller
Directors: Mimi Leder
Casts: Téa Leoni, Elijah Wood, Richard Schiff, Morgan Freeman, James Cromwell, Jon Favreau, Ron Eldard, Vanessa Redgrave, Alimi Ballard, Robert Duvall, Kurtwood Smith, Mike O'Malley, Leelee Sobieski, W. Earl Brown, Mary McCormack, Dougray Scott, Tucker Smallwood, Una Damon, Charles Martin Smith, Suzy Nakamura, Blair Underwood, Maximilian Schell, Jason Dohring, Laura Innes, Derek de Lint, Denise Crosby
IMDB: Deep Impact (1998)
Sponsored Links
Ratings
User Rating:
IMDB Rating:
6.1
Reviews
The New York Times

-

Deep Impact confines much of its horror to television news reports and has a more brooding, thoughtful tone than this genre usually calls for.

Entertainment Weekly

-

Leder establishes a syncopated rhythm unlike anything we're used to in a catastrophe spectacle.

Chicago Sun-Times

-

You can enjoy the way they create little flashes of wit in the dialogue, which enlivens what is, after all, a formula disaster movie.

The Globe and Mail (Toronto)

-

Deep Impact, a triple-strand ensemble disaster flick, has a few good opening minutes, the biggest tidal wave you've ever seen in the closing minutes, and a cluster of little meandering melodramas in between.

Film Threat

-

While the film is flawed, lacks desperately needed humor and is filled with cliches, the attempt to explore the human cost of all those cool explosions and destruction is an admirable one.
Deep Impact (1998)
A seven-mile-wide space rock is hurtling toward Earth, threatening to obliterate the planet. Now, it's up to the president of the United States to save the world. He appoints a tough-as-nails veteran astronaut to lead a joint American-Russian crew into space to destroy the comet before impact. Meanwhile, an enterprising reporter uses her smarts to uncover the scoop of the century.