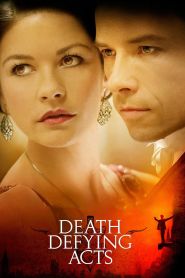 General Information
Glossary: D
Released Year: 2007
Runtime: 97 minutes
Genre: Drama, History, Romance, Thriller
Directors: Gillian Armstrong
Writers: Tony Grisoni, Brian Ward
Casts: Miles Jupp, Guy Pearce, Saoirse Ronan, Catherine Zeta-Jones, Timothy Spall, Ralph Riach, Anthony O'Donnell, Malcolm Shields, Leni Harper, Olivia Darnley, Billy McColl, James Holmes, Melanie Harris
IMDB: Death Defying Acts (2007)
Sponsored Links
Ratings
User Rating:
IMDB Rating:
5.8
Reviews
L.A. Weekly

-

This won't be remembered as one of the prodigiously talented Armstrong's great films (My Brilliant Career, High Tide, Little Women), but it's still 90 percent better than everything else out there.

Los Angeles Times

-

Far more diverting and well crafted than its promotion-free release campaign might suggest. Then again, for a film largely based on the notion that "nothing is what it seems," such lowered expectations may actually work in its favor.

Slate

-

A minor but satisfying entry in the "what if" historical-fantasy genre.

The Hollywood Reporter

-

What it lacks is a villain, and magic without danger is simply a parlor trick, which is what the film becomes.

New York Daily News

-

Though all the elements are in place, there's not much magic to be found in Death Defying Acts, an intermittently entertaining but surprisingly modest romance from Gillian Armstrong.
Death Defying Acts (2007)
On a tour of Britain in 1926, Harry Houdini enters into a passionate affair with a psychic out to con the famous magician.