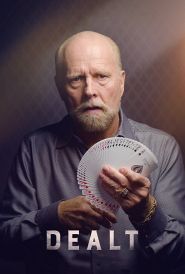 General Information
Glossary: D
Released Year: 2017
Runtime: 85 minutes
Genre: Biography, Documentary
Directors: Luke Korem
Writers: Luke Korem
Casts:
IMDB: Dealt (2017)
Sponsored Links
Ratings
User Rating:
IMDB Rating:
7.7
Reviews
The Playlist

-

What is, at its outset, a rather charming film about the world-famous card mechanic Richard Turner and the obstacles he has overcome, winds up being a searching study of the painful nature of coming to terms with your own vulnerabilities.

Variety

-

The final scenes of Dealt are all the more affecting for illustrating Turner's newfound willingness to accept things he once deemed unacceptable without significantly compromising his personal code of honor.

Los Angeles Times

-

As keenly observed by Korem and cinematographer Jacob Hamilton, Dealt achieves the neat trick of giving its main subject a rewarding character arc.

San Francisco Chronicle

-

This is a movie that has lots of magic, in more ways than one.

The Hollywood Reporter

-

While general audiences may wish for a bit more technical information about how Turner keeps track of cards without being able to see them, Korem understandably seizes on the emotional arc before him, following Turner's late-middle-age crisis through to its happy resolution.
Dealt (2017)
Sixty-two year old Richard Turner is renowned as one of the world's greatest card magicians, yet he is completely blind. This is an in-depth look at a complex character who is one of magic's greatest hidden treasures.