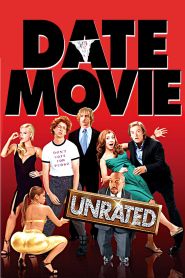 General Information
Glossary: D
Released Year: 2006
Runtime: 83 minutes
Genre: Comedy
Directors: Jason Friedberg, Aaron Seltzer
Casts: Jennifer Coolidge, Fred Willard, Tom Lenk, Charlie Dell, Alyson Hannigan, Carmen Electra, Eddie Griffin, Judah Friedlander, Tony Cox, Susse Budde, Allison Kyler, Gian Franco Tordi, Adam Campbell, Marie Matiko, Meera Simhan, Tom Fitzpatrick, Beverly Polcyn, Scott Bridges, Sophie Monk, Mauricio Sanchez, Dana Seltzer, Valery M. Ortiz
IMDB: Date Movie (2006)
Sponsored Links
Ratings
User Rating:
IMDB Rating:
2.8
Reviews
The New York Times

-

Aaron Seltzer and Jason Friedberg, who wrote the screenplay, have crammed dozens of movie parodies into this deliberately juvenile spoof of romantic comedies. Mr. Seltzer, who directed, has made very few of them funny.

L.A. Weekly

-

This anemic genre parody from two of the six writers of "Scary Movie" strives for the goofball precision of the brothers Zucker and, long before it reaches the end of its 70-odd minutes, gives you newfound respect for the comic genius of the brothers Wayans (two of the other writers of "Scary Movie").

San Francisco Chronicle

-

A lame pastiche of Hollywood romances.

TV Guide Magazine

-

The choice is yours: Shell out 10 bucks for this dire spoof of recent romantic comedies a la "Scary Movie" and "Not Another Teen Movie", or toss your 12-year-old nephew a quarter and get him to act out scenes from his favorite movies for 80 minutes: The entertainment value will be about the same.

Variety

-

Arguably the lamest of all the free-wheeling genre parodies that have taken flight since "Airplane!," Date Movie is stupefyingly unfunny in its attempts to mock romantic comedies, celebrities, reality TV shows and anything else that pops into the heads of its creators.
Date Movie (2006)
Spoof of romantic comedies which focuses on a man (Campbell), his crush (Hannigan), his parents (Coolidge, Willard), and her father (Griffin).