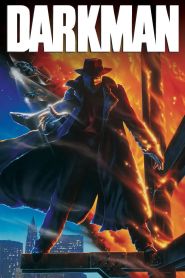 General Information
Glossary: D
Released Year: 1990
Runtime: 96 minutes
Genre: Action, Crime, Sci-Fi, Thriller
Directors: Sam Raimi
Casts: Scott Spiegel, Liam Neeson, Aaron Lustig, Frances McDormand, Ted Raimi, Larry Drake, Bruce Campbell, Said Faraj, John Landis, Dan Bell, Joel Coen, Ethan Coen, Dan Hicks, Arsenio 'Sonny' Trinidad, Philip A. Gillis, Jenny Agutter, Colin Friels, William Lustig, Jessie Lawrence Ferguson, Professor Toru Tanaka, Nicholas Worth, Rafael H. Robledo, Nelson Mashita, Frank Noon, Maggie Moore
IMDB: Darkman (1990)
Sponsored Links
Ratings
User Rating:
IMDB Rating:
6.4
Reviews
Boston Globe

-

The film works because Raimi's motor-rhythmed pop sensibility was ready to take off in this movie, and does, in a series of wonderfully hyperkinetic comic-strip lurches. [24 Aug. 1990, p.34]

Entertainment Weekly

-

Darkman is a thrillingly demented pop spectacular: a grade-B movie made by a grade-A lunatic.

Chicago Tribune

-

What no plot summary of Darkman can provide is how much director Raimi ("The Evil Dead") brings to the party. In addition to giving us a conflicted hero - more disturbed than Batman - Raimi fills every action sequence and even routine plot scenes with fresh images that reflect his Darkman's rage. [24 Aug. 1990]

San Francisco Chronicle

-

Darkman is big, stupid and wonderful -- an absurd, grand-scale adventure and a vicious comedy rolled into one nasty, unpleasant, hard-to-resist mess. [24 Aug. 1990, p.E1]

Washington Post

-

Darkman, as unnerving as a gargoyle, is a classic nightmare, elegant and sumptuous, everything "Batman" should have been. But we're numbed after a while, as we are by the grotesquerie of the nightly news. Then again, maybe that's Raimi's intention. His work is beautiful in its scary way, and never only skin deep.
Darkman (1990)
Dr. Peyton Westlake is on the verge of realizing a major breakthrough in synthetic skin when his laboratory is destroyed by gangsters. Having been burned beyond recognition and forever altered by an experimental medical procedure, Westlake becomes known as Darkman, assuming alternate identities in his quest for revenge and a new life with a former love.