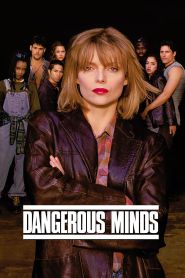 General Information
Glossary: D
Released Year: 1995
Runtime: 99 minutes
Genre: Biography, Drama
Directors: John N. Smith
Casts: Courtney B. Vance, Michelle Pfeiffer, John Neville, George Dzundza, Renoly Santiago, Lorraine Toussaint, Beatrice Winde, Robin Bartlett, Wade Dominguez, Bruklin Harris, Mercello Thedford, Roberto Alvarez, Richard Grant, Marisela Gonzales, Toni Nichelle Buzhardt
IMDB: Dangerous Minds (1995)
Sponsored Links
Ratings
User Rating:
IMDB Rating:
6.4
Reviews
Rolling Stone

-

And Pfeiffer gives a funny, scrappy performance that makes you feel a committed teacher's fire to make a difference.

San Francisco Chronicle

-

Dangerous Minds doesn't drop the sentimental conventions of the good-teacher Hollywood drama but reconstitutes them with strong performances, sensitive direction by Canadian film maker John N. Smith ("The Boys of St. Vincent") and a firm belief that teachers can and will make a difference in a person's life.

Chicago Reader

-

Though it lacks the sensational pizzazz of "Blackboard Jungle", the politics here are arguably somewhat better, and the supporting cast -- George Dzundza, Courtney P. Vance, Robin Bartlett, Beatrice Winde -- isn't bad either.

ReelViews

-

In the case of Dangerous Minds, we get an idealized version of inner city life, where, though problems may require more than the wave of a magic wand to remove, the solutions still seem too facile.

San Francisco Examiner

-

It's all quite inspiring, but despite the fact that this is based on someone's actual experiences, the whole thing has an unfortunate Hollywood ring to it.
Dangerous Minds (1995)
Former Marine Louanne Johnson lands a gig teaching in a pilot program for bright but underachieving teens at a notorious inner-city high school. After having a terrible first day, she decides she must throw decorum to the wind. When Johnson returns to the classroom, she does so armed with a no-nonsense attitude informed by her military training and a fearless determination to better the lives of her students -- no matter what the cost.