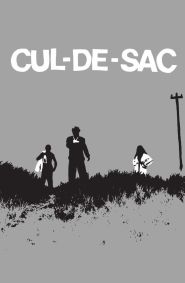 General Information
Glossary: C
Released Year: 1966
Runtime: 112 minutes
Genre: Comedy, Drama, Thriller
Directors: Roman Polański
Casts: Jack MacGowran, Donald Pleasence, Lionel Stander, Jacqueline Bisset, Renée Houston, Iain Quarrier, Marie Kean, William Franklyn, Françoise Dorléac, Geoffrey Sumner, Robert Dorning, Trevor Delaney
IMDB: Cul-de-sac (1966)
Sponsored Links
Ratings
User Rating:
IMDB Rating:
7.1
Reviews
Empire

-

Shades of Pinter and Beckett are affectionately retouched with dark humour, dynamic wordplay and a tension all Kubrick's.

Chicago Reader

-

Roman Polanski's second British film is a mean little absurdist comedy set on a remote Northumberland island; it's also one of the best and purest of all his works.

The A.V. Club

-

Cul-de-sac functions better as an affectionate goof on Waiting For Godot, enhanced by an unforgettable setting that naturally severs the trio from contact with the outside world.

Chicago Sun-Times

-

Pleasence, in a role that requires him to run sideways most of the time with his head at a crooked angle, is hilarious and frightening as a man going mad, and the film has an eerie appeal.

Slant Magazine

-

Cul-de-Sac remains a searing reminder that Roman Polanski's idiosyncratic grasp of the human mind was once evinced theatrically, rather than through narrative ferocity.
Cul-de-sac (1966)
A wounded criminal and his dying partner take refuge at a beachfront castle. The owners of the castle, a meek Englishman and his willful French wife, are initially the unwilling hosts to the criminals. Quickly, however, the relationships between the criminal, the wife, and the Englishman begin to shift in humorous and bizarre fashion.