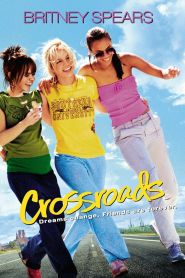 General Information
Glossary: C
Released Year: 2002
Runtime: 93 minutes
Genre: Action, Adventure, Comedy, Drama, Family, Music, Romance
Directors: Tamra Davis
Writers: Shonda Rhimes
Casts: Dave Allen, Britney Spears, Justin Long, Anson Mount, Zoe Saldana, Ritchie Montgomery, Dan Aykroyd, Taryn Manning, Kim Cattrall, Brandon Henschel, Kyle Davis, Katherine Boecher, Branden Williams, Cullen G. Chambers, Shonda Farr, Nick Pellegrino, Jamie Lynn Spears, Seth Romatelli, Beverly Johnson, Bahni Turpin, Bahni Turpin, Kool Moe Dee, Richard Voll, Celina Belizan, Jesse Camp, Jesse Camp, Jesse Camp, Jesse Camp, Dajine Colon, Dajine Colon, Crystal Milton, Carl Conti
IMDB: Crossroads (2002)
Sponsored Links
Ratings
User Rating:
IMDB Rating:
3.5
Reviews
New Times (L.A.)

-

Highbrow self-appointed guardians of culture need not apply, but those who loved "Cool as Ice" have at last found a worthy follow-up.

Slate

-

So vanilla yet so transcendentally sleazy that its target audience seems to be pubescent girls and dirty old priests.

Film Threat

-

Spears, Davis, and company are well aware that they're making nothing more than the cinematic equivalent of Spears' glossy bubble gum pop -- but that's exactly the problem.

Salon

-

The movie is a lumbering load of hokum, but unlike those other recent pop star white elephants -- it's at least watchable.

USA Today

-

Less a movie than a mind-numbingly dull road trip.
Crossroads (2002)
Three friends get together and bury a box making a pact to open it at midnight at their high school graduation. In the little town in Georgia that they live in, things soon change. One is little miss perfect, one is an engaged prom queen, and the other is a pregnant outcast. The night of graduation, they open the box and they strike up a conversation. All of a sudden, one brings up the topic of her going to Los Angeles for a record contract audition. They all decide to go together and they leave. With a little money, they set out on the road with a guy named Ben. When one of them tells the other a rumor that he might be a homicidal maniac they are all scared of him. When they reach LA, Lucy falls in love with Ben and against her father's wishes, she stays and she goes to the audition.