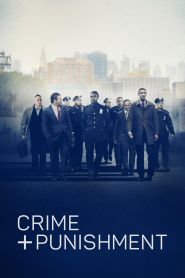 General Information
Glossary: C
Released Year: 2018
Runtime: 111 minutes
Genre: Documentary
Directors: Stephen T. Maing
Casts:
IMDB: Crime + Punishment (2018)
Sponsored Links
Ratings
User Rating:
IMDB Rating:
7.5
Reviews
Village Voice

-

Stephen Maing's searing documentary Crime + Punishment offers a fuller look at the question of what can be accomplished from inside, revealing both the personal toll fighting the system can exact but also the urgent necessity of such battles.

The New York Times

-

Crime+Punishment advances a thorough critique of American law enforcement not by generalizing or speechifying, but by digging into particular lives and circumstances, allowing affected individuals to speak for themselves.

The Hollywood Reporter

-

Stephen Maing's documentary about the NYPD's illegal policing quotas and other discriminatory practices gets the blood boiling.

TheWrap

-

Crime + Punishment is essential viewing for anyone with a suspicion that there's corruption in law enforcement.

Los Angeles Times

-

Crime + Punishment is a quiet documentary but a potent one. Though its approach is low key, its passion, drama and concern for exposing wrongdoing is unmistakable.
Crime + Punishment (2018)
Over four years of unprecedented access, the story of a brave group of black and Latino whistleblower cops and one unrelenting private investigator who, amidst a landmark lawsuit, risk everything to expose illegal quota practices and their impact on young minorities.