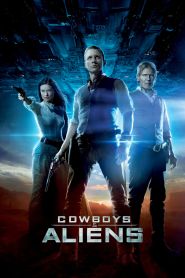 General Information
Glossary: C
Released Year: 2011
Runtime: 119 minutes
Genre: Action, Sci-Fi, Thriller, Western
Directors: Jon Favreau
Casts: Daniel Craig, David O'Hara, Sam Rockwell, Chad Randall, Jimmy Jatho, Harrison Ford, Paul Dano, Olivia Wilde, Clancy Brown, Walton Goggins, Keith Carradine, Adam Beach, Ana de la Reguera, Abigail Spencer, Noah Ringer, Toby Huss, Raoul Max Trujillo, David Midthunder, Matthew Taylor, Brian Duffy, Brendan Wayne, Gavin Grazer, Wyatt Russell, Julio Cedillo, Buck Taylor, Cooper Taylor, Chris Browning, Kenny Call, Garret Noël, Troy Gilbert, Scout Hendrickson, Mo Brings Plenty, Phillip Pike, Paul Ortega, Robyn Simmons, Oliver Enjady, Robert Lee Bell, Maria Bethke, Todd Bethke, Michael J. Carnevale, David Cohen, Cassandra Rochelle Fetters, Scott Flick, Amanda Fresquez, Rosalinda Garcia, Mylo Ironbear, Benny James, Richard Allan Jones, Alexandria Morrow, Maxine Napoleon, Michael Neal Powell, Kelly Ruble, Charlene Adams Upton, Paul Marshall
IMDB: Cowboys & Aliens (2011)
Sponsored Links
Ratings
User Rating:
IMDB Rating:
6.0
Reviews
The Hollywood Reporter

-

The key to its success lies in the determination by everyone involved to play the damn thing straight. Even the slightest goofiness, the tiniest touch of camp, and the whole thing would blow sky high. But it doesn't.

Variety

-

While Cowboys & Aliens offers little in the way of sociological insight (except perhaps giving the white man a taste of his own resource-stealing medicine), it's still a ripping good ride.

Arizona Republic

-

Exactly what it sounds like: a cowboy movie and an alien movie thrown together, a genre mash-up that's more fun than good, but pretty good nonetheless.

Orlando Sentinel

-

That it lacks the snap, crackle and kapow of the summer's better comic book blockbusters isn't surprising. With all this effort riding on a big, expensive and rushed studio summer picture, the real miracle is that any of them come to life.

Village Voice

-

Director Jon Favreau's experiment in genre crossbreeding - a Western-sci-fi mashup pumped full of inspirational all-in-this-together spirit - is a cute, crowd-pleasing idea, though more decadent than a revitalization of either genre.
Cowboys & Aliens (2011)
A stranger stumbles into the desert town of Absolution with no memory of his past and a futuristic shackle around his wrist. With the help of mysterious beauty Ella and the iron-fisted Colonel Dolarhyde, he finds himself leading an unlikely posse of cowboys, outlaws, and Apache warriors against a common enemy from beyond this world in an epic showdown for survival.