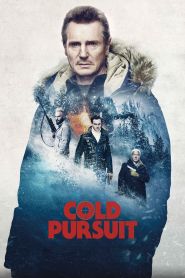 General Information
Glossary: C
Released Year: 2019
Runtime: 119 minutes
Genre: Action, Crime, Drama, Thriller
Directors: Hans Petter Moland
Casts: Julia Jones, David O'Hara, Jim Shield, Michael Adamthwaite, Glenn Wrage, Liam Neeson, Arnold Pinnock, Bart Anderson, Raoul Max Trujillo, Domenick Lombardozzi, Michael Bean, William Forsythe, Emmy Rossum, Laura Dern, Michael Eklund, John Doman, Aleks Paunovic, Victor Zinck Jr., Travis MacDonald, Nick Holmes, Nels Lennarson, Venus Terzo, Nathaniel Arcand, Christopher Logan, Ben Cotton, Elysia Rotaru, Kyle Nobess, Tom Jackson, Wesley MacInnes, Emily Maddison, Glenn Ennis, Benjamin Hollingsworth, Gus Halper, Bradley Stryker, Tom Bateman, Ben Sullivan, Peter Strand Rumpel, Elizabeth Thai, Micheál Richardson, Chris Cook, Dani Alvarado, Glen Gould, Gary Sekhon, Loretta Walsh, Max Montesi
IMDB: Cold Pursuit (2019)
Sponsored Links
Ratings
User Rating:
IMDB Rating:
6.4
Reviews
IndieWire

-

Cold Pursuit resolves as a riotously fun example of a director remaking their own film for the right reasons.

Entertainment Weekly

-

It knows exactly what kind of movie it is, but that doesn't stand in the way of it goosing its bloodbath set pieces with irreverent, off-kilter gallows humor.

Variety

-

By pumping up the darkly comedic undertones, augmenting the frigid chill of the original, Moland's terrific, riveting noir-tinged picture distinguishes itself from other rote, reductive remakes.

IGN

-

Cold Pursuit is partly a great action thriller, and Liam Neeson is still kicking plenty of butt, but the film is mostly an intriguing, relaxing, totally tuckered-out character study of old men running out of the energy required to run a criminal enterprise. As thrillers go, this one is more adult than your average.

The Film Stage

-

There is nary a moment of death that isn't drawn out for laughs, or a moment of comedy drawn out for sorrow. Among the ice and the wind, Cold Pursuit paints an unsuspecting, desolate place, where death doesn't care about you, so you might as well laugh.
Cold Pursuit (2019)
Nels Coxman's quiet life comes crashing down when his beloved son dies under mysterious circumstances. His search for the truth soon becomes a quest for revenge as he seeks coldblooded justice against a drug lord and his inner circle.