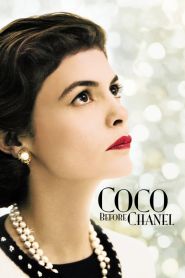 General Information
Glossary: C
Released Year: 2009
Runtime: 110 minutes
Genre: Biography, Drama
Directors: Anne Fontaine
Casts: Alessandro Nivola, Audrey Tautou, Benoît Poelvoorde, Marie Gillain, Emmanuelle Devos, Régis Royer, Yan Duffas, Fabien Béhar, Roch Leibovici, Jean-Yves Chatelais, Pierre Diot, Vincent Nemeth, Bruno Abraham-Kremer, Inès Bessalem, Jean-Chrétien Sibertin-Blanc, Marie Parouty, Fanny Deblock, Claude Brécourt
IMDB: Coco avant Chanel (2009)
Sponsored Links
Ratings
User Rating:
IMDB Rating:
6.7
Reviews
Time Out

-

Anne Fontaine's biopic transforms the designer's early life into highbrow guilty-pleasure gold.

Entertainment Weekly

-

Tautou is a fascinating, unsmiling, petite presence with a severe brow and an androgynous appeal, so much so that I wish Alessandro Nivola (Junebug) were a more robust beau as Arthur ''Boy'' Capel, the love of Chanel's life.

USA Today

-

Not an expansive biopic but a fascinating snapshot of a pivotal chapter for Chanel, her formative fashionista years.

New York Magazine (Vulture)

-

Surprisingly intimate and nuanced.

The Hollywood Reporter

-

Spectacle, a love triangle, heritage settings, bravura acting, witty dialogue, a bittersweet finale: There's something for everyone in Anne Fontaine's Coco Before Chanel.
Coco avant Chanel (2009)
2009 biopic about the early life of Coco Chanel. Several years after leaving the orphanage, to which her father never returned for her, Gabrielle Chanel finds herself working in a provincial bar both. She's both a seamstress for the performers and a singer, earning the nickname Coco from the song she sings nightly with her sister. A liaison with Baron Balsan gives her an entree into French society and a chance to develop her gift for designing.