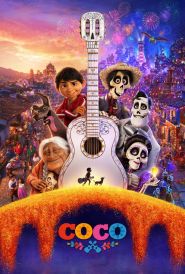 General Information
Glossary: C
Released Year: 2017
Runtime: 105 minutes
Genre: Adventure, Animation, Comedy, Family, Fantasy, Music, Mystery
Directors: Lee Unkrich
Casts: Roberto Donati, Jossara Jinaro, Alanna Ubach, Lombardo Boyar, Johnny A. Sanchez, Denise Blasor, Efrain Figueroa, John Ratzenberger, Lee Unkrich, Adrian Molina, Cheech Marin, Edward James Olmos, Al Rodrigo, Gary Carlos Cervantes, Benjamin Bratt, Dyana Ortelli, Gael García Bernal, Ruth Livier, Vicki Davis, Gabriel Iglesias, Eddie Santiago, Luisa Leschin, Joshua Guerrero, Montse Hernandez, Montse Hernandez, Jacqueline Pinol, Christian Lanz, Ruth Zalduondo, Richard Miro, Arthur Ortiz, Bernardo Cubria, Wilma Bonet, Natalia Córdova-Buckley, Luis Valdez, Ana Ofelia Murguía, Daniel Edward Mora, Alfonso Aráu, Jaime Camil, Chris Triana, Alex Castillo, Herbert Siguenza, Renée Victor, Anthony Gonzalez, Antonio Sol, Selene Luna, Sofía Espinosa, Polo Rojas, Polo Rojas, Octavio Solis, Carla Medina, Blanca Araceli, Salvador Reyes, Memo Aponte, Liliana Barba Meinecke, Emmanuel Bernal, David Beron, Daniel Diaz, Deb Fink, Libertad García Fonzi, Emilio Fuentes, Daniella Garcia-Lorido, Mike Gomez, Lillian Groag, Marabina Jaimes, Constanza Lechuga, Maria Dominique Lopez, Valeria Maldonado, Vivianne Nacif, Adriana Sevahn Nichols, Jonathan Nichols, Jessica Pacheco, Juan Pacheco, James Ponce, J. Francisco Rodriguez, Eduardo Roman, Melissa Santos, Luis Solís, Rosalba Sotelo, Trujo, James Zavaleta, Levi Nunez, Óscar Bonfiglio, Lalo Alcaraz, Marcela Davison Aviles, Carolina Ángel
IMDB: Coco (2017) - IMDB
Sponsored Links
Ratings
User Rating:
IMDB Rating:
8.4
Reviews
The Hollywood Reporter

-

At every imaginative juncture, the filmmakers (the screenplay is credited to Pixar veteran Molina and Matthew Aldrich) create a richly woven tapestry of comprehensively researched storytelling, fully dimensional characters, clever touches both tender and amusingly macabre, and vivid, beautifully textured visuals.

The Playlist

-

Thankfully, Coco, Pixar's latest original work and one of their very best, truly does transport you. The results are magical and feel somewhat rebellious given the current political climate, which makes the film feel even more special.

San Francisco Chronicle

-

Coco is the best-looking Pixar movie since the tonally uneven "The Good Dinosaur." The colorful afterlife is the centerpiece, but excellence is found in unexpected places.

TheWrap

-

If an animated movie is going to offer children a way to process death, it's hard to envision a more spirited, touching and breezily entertaining example than Coco.

We Got This Covered

-

This is a masterpiece of woven ancestral roots and the importance of "familia," confident in song and poetic in vision.
Coco (2017)
Despite his family's baffling generations-old ban on music, Miguel dreams of becoming an accomplished musician like his idol, Ernesto de la Cruz. Desperate to prove his talent, Miguel finds himself in the stunning and colorful Land of the Dead following a mysterious chain of events. Along the way, he meets charming trickster Hector, and together, they set off on an extraordinary journey to unlock the real story behind Miguel's family history.