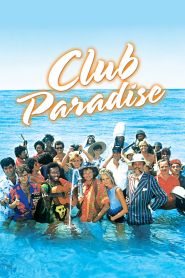 General Information
Glossary: C
Released Year: 1986
Runtime: 96 minutes
Genre: Comedy, Drama, Romance
Directors: Harold Ramis
Casts: Robin Williams, Peter O'Toole, Eugene Levy, Joanna Cassidy, Bruce McGill, Rick Moranis, Andrea Martin, Brian Doyle-Murray, Joe Flaherty, Robin Duke, Mary Gross, Steven Kampmann, Adolph Caesar, Jimmy Cliff, Twiggy
IMDB: Club Paradise (1986)
Sponsored Links
Ratings
User Rating:
IMDB Rating:
5.1
Reviews
Chicago Sun-Times

-

The movie never really comes together, and I think the fault for that begins with Williams. When the star of a movie seems desperate enough to depend on one-liners, can the rest of the cast be blamed for losing confidence in the script?

The New York Times

-

It's very easy to make it sound funnier than it ever is. Like ''Caddyshack'' and ''National Lampoon's Vacation,'' which Mr. Ramis also directed, and like ''Animal House'' and ''Ghostbusters,'' which he also wrote in part, Club Paradise is full of funny ideas that are never adequately developed. The best it can offer are successful one-liners....The movie is painless, and everybody associated with it is good company, but considering the obvious effort and the expense that went into it, the result should have been much, much better.

TV Guide Magazine

-

The movie is a succession of shticks--which, when they succeed, are very funny. Unfortunately, not all of them succeed.

Orlando Sentinel

-

Club Paradise isn't particularly offensive, but it isn't especially funny, either. And all that's holding it together is Williams' amiable performance and the music, most of which was written by Cliff, who also performs it.

Chicago Tribune

-

Throughout, Williams seems hampered, hand-tied and almost mind-controlled, as if afraid of letting his hyperkinetic style take off. That`s too bad, because without it, Club Paradise is amiable, amusing and effortless, words that are good news when the subject is bittersweet comedy and disaster when the intention was clearly slapstick.
Club Paradise (1986)
When Chicago firefighter Jack Moniker retires and moves to a small Caribbean island, he is befriended by the owner of a run-down resort. Together they renovate the resort and lure tourists to Club Paradise in an effort to fight off corrupt officials and businessmen who want to claim the resort as their own.