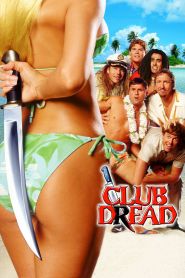 General Information
Glossary: C
Released Year: 2004
Runtime: 104 minutes
Genre: Comedy, Horror, Thriller
Directors: Jay Chandrasekhar
Casts: Nat Faxon, Tanja Reichert, Brittany Daniel, Bill Paxton, Jordan Ladd, Bryan Scott, Jay Chandrasekhar, Kevin Heffernan, Paul Soter, Erik Stolhanske, Julio Bekhor
IMDB: Club Dread (2004)
Sponsored Links
Ratings
User Rating:
IMDB Rating:
5.7
Reviews
Premiere

-

The Broken Lizard guys don't so much send up a genre as inhabit it, and subvert it from the inside.

The A.V. Club

-

With "Super Troopers" and Club Dread, Broken Lizard has cranked out two genuinely funny movies in a row.

Village Voice

-

The group has a distinctive deadpan style; after you get on their wavelength, it's impossible to quit chuckling.

The Hollywood Reporter

-

Works better than one might think, thanks to the group's modus operandi, which combines a fundamental reverence for the target material and a sly irreverence that's key to their skewering technique.

Entertainment Weekly

-

A few gags are brilliantly staged, but most have a smug, collegiate take-it-or-leave-it quality that makes full-on belly laughter feel optional.
Club Dread (2004)
When a serial killer interrupts the fun at the swanky Coconut Pete's Coconut Beach Resort -- a hedonistic island paradise for swingers --- it's up to the club's staff to stop the violence ... or at least hide it!