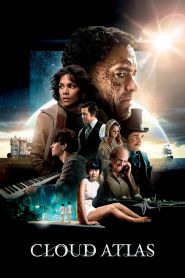 General Information
Glossary: C
Released Year: 2012
Runtime: 172 minutes
Genre: Drama, Mystery, Sci-Fi
Directors: Tom Tykwer, Lilly Wachowski, Lana Wachowski
Casts: Jim Broadbent, Sylvestra Le Touzel, Andrew Havill, Tom Hanks, Hugo Weaving, Keith David, Martin Wuttke, Götz Otto, Alistair Petrie, Halle Berry, Jim Sturgess, Susan Sarandon, Amanda Walker, Hugh Grant, David Gyasi, Shaun Lawton, James D'Arcy, Ben Whishaw, Robert Fyfe, Bae Doona, Zhou Xun, Louis Dempsey, Zhu Zhu, Robin Morrissey, Brody Nicholas Lee, Raevan Lee Hanan, Mya-Lecia Naylor, Niall Greig Fulton, Martin Docherty, Victor Solé
IMDB: Cloud Atlas (2012)
Sponsored Links
Ratings
User Rating:
IMDB Rating:
7.5
Reviews
Variety

-

As inventive narratives go, there's outside the box, and then there's pioneering another dimension entirely, and this massive, independently financed collaboration among Tom Tykwer and Wachowski siblings Lana and Andy courageously attempts the latter.

IndieWire

-

Tom Hanks' appearances come across like scene changes between unfunny sketches on 'Saturday Night Live.'

Slant Magazine

-

Its ideas are paralleled, its themes twinned, sometimes breathlessly, sometimes fatuously, into what may be described as a 164-minute pop song of seemingly infinite verses, choruses, and bridges. Perhaps expectedly, it soars as often as it thuds.

Boxoffice Magazine

-

The movie version has the exciting and challenging parts down but the moral awakening it so strenuously wants us to experience remains beyond its reach.

The Hollywood Reporter

-

Not quite soaring into the heavens, but not exactly crash-landing either, Cloud Atlas is an impressively mounted, emotionally stilted adaptation of British author David Mitchell's bestselling novel.
Cloud Atlas (2012)
A set of six nested stories spanning time between the 19th century and a distant post-apocalyptic future. Cloud Atlas explores how the actions and consequences of individual lives impact one another throughout the past, the present and the future. Action, mystery and romance weave through the story as one soul is shaped from a killer into a hero and a single act of kindness ripples across centuries to inspire a revolution in the distant future. Based on the award winning novel by David Mitchell. Directed by Tom Tykwer and the Wachowskis.