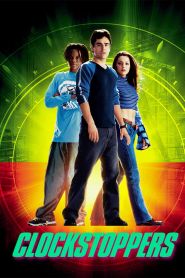 General Information
Glossary: C
Released Year: 2002
Runtime: 94 minutes
Genre: Action, Adventure, Comedy, Sci-Fi, Thriller
Directors: Jonathan Frakes
Writers: Rob Hedden, Andy Hedden
Casts: Paula Garcés, Julia Sweeney, Garikayi Mutambirwa, Jesse Bradford, Michael Biehn, Ken Jenkins, French Stewart, Brian J. Williams, Jason George, Robin Thomas, Lindze Letherman, Tony Abatemarco
IMDB: Clockstoppers (2002) - IMDB
Sponsored Links
Ratings
User Rating:
IMDB Rating:
5.2
Reviews
Los Angeles Times

-

Exceptionally user-friendly for the technologically challenged among us and rides over its less inspired patches on a wave of cheeky humor.

Chicago Sun-Times

-

The movie has been produced by Nickelodeon, and will no doubt satisfy its intended audience enormously. It does not cross over into the post-Nickelodeon universe.

L.A. Weekly

-

Intermittently fun, but mostly just efficiently passable.

USA Today

-

Tries and winds up with a pleasant, if forgettable, romp of a film.

New York Daily News

-

After the first hour, it starts to convince you that time really can stand still.
Clockstoppers (2002)
Until now, Zak Gibbs' greatest challenge has been to find a way to buy a car. But when he discovers an odd wristwatch amidst his father's various inventions and slips it on -- something very strange happens. The world around him seems to come to a stop, everything and everybody frozen in time. Zak quickly learns how to manipulate the device and he and his quick-witted and beautiful new friend, Francesca, start to have some real fun.