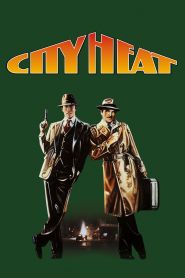 General Information
Glossary: C
Released Year: 1984
Runtime: 93 minutes
Genre: Comedy, Crime
Directors: Richard Benjamin
Casts: Clint Eastwood, Jane Alexander, Rip Torn, Robert Davi, Burt Reynolds, Art LaFleur, Tony Lo Bianco, Richard Roundtree, William Sanderson, Jack Nance, Jack Thibeau, Madeline Kahn, Nicholas Worth, Bruce M. Fischer, John Hancock, Gerald S. O'Loughlin, Irene Cara, Jude Farese
IMDB: City Heat (1984)
Sponsored Links
Ratings
User Rating:
IMDB Rating:
5.5
Reviews
Time Out

-

It's certainly not a subtle movie, but with memorable performances, ludicrously over-the-top one-liners and amiable zaniness, it qualifies as a lot of fun.

Christian Science Monitor

-

It's about time Eastwood and Reynolds faced off - and I, for one, am glad they do it with barely hidden smiles. [06 Dec 1984, p.49]

Miami Herald

-

An amiable bit of fluff that is noteworthy largely for its sumptuous production design and its pairing of two of the screen's most popular "lightweights," Clint Eastwood and Burt Reynolds. [07 Dec 1984, p.D14]

Variety

-

City Heat is an amiable but decidedly lukewarm confection geared entirely around the two star turns.

The New York Times

-

Overdressed and overplotted as it is, City Heat benefits greatly from the sardonic teamwork of Clint Eastwood and Burt Reynolds. Without them the film would be eminently forgettable, but their bantering gives it an enjoyable edge.
City Heat (1984)
Set in Kansas City in 1933, Eastwood plays a police lieutenant known simply by his last name, Speer. Reynolds plays a former cop turned private eye named Mike Murphy. Both Speer and Murphy served on the force together and were once good friends, but are now bitter enemies. When Murphy's partner is slain they team up again to fight the mob.