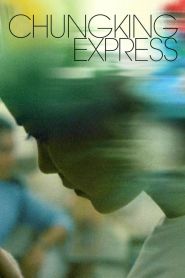 General Information
Glossary: C
Released Year: 1994
Runtime: 102 minutes
Genre: Comedy, Drama, Romance
Directors: Wong Kar-wai
Casts: Vickie Eng, Tony Leung Chiu-Wai, Takeshi Kaneshiro, Brigitte Lin, Faye Wong, Valerie Chow, Piggy Chan, Kwan Lee-Na, Wong Chi-Ming, Leung San, Rico Chu Tak-On, Lynne Langdon
IMDB: Chungking Express (1994)
Sponsored Links
Ratings
User Rating:
IMDB Rating:
8.1
Reviews
Los Angeles Times

-

Chungking Express ravishingly, seductively exudes the immediacy of everyday life as its spins its classically timeless tales of love lost and almost regained.

Austin Chronicle

-

The performances here are irresistible, thrilling in their invention and spontaneity, as is the mind-blowing, urgent cinematography of frequent Wong collaborator Christopher Doyle, which makes the most of Hong Kong's neon-drenched streets and cramped interior spaces.

Slant Magazine

-

To Wong, love isn't something you can talk about; words are inadequate, empty, inevitably reductive. Love is something you see, sense, feel, and Chungking Express is one of Wong's purest evocations of its excitement and heartbreak.

ReelViews

-

Wong infuses his films with style and energy. His hand-held camera is restless, always moving and shifting. The action sequences are punctuated with unusual shots and stop-motion jumps. By filming Chungking Express in such rich, vibrant manner, the director uses visual images to underscore his themes.

San Francisco Examiner

-

This is filmmaking of high energy and wit. What it adds up to is debatable. You can view it as a bright twist on the being-a-cop-is-lonely sort of police picture, or as a mini-anthology of quirky not-quite-love stories. If it's hard to say where Chungking Express arrives, the trip is still exhilarating.
Chungking Express (1994)
Two melancholic Hong Kong policemen fall in love: one with a mysterious underworld figure, the other with a beautiful and ethereal server at a late-night restaurant he frequents.