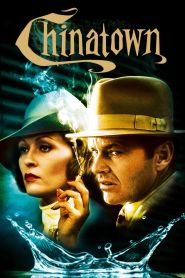 General Information
Glossary: C
Released Year: 1974
Runtime: 130 minutes
Genre: Drama, Mystery, Thriller
Directors: Roman Polański
Casts: James Hong, Rance Howard, Jack Nicholson, Roman Polański, Noble Willingham, Lee de Broux, Diane Ladd, Perry Lopez, C.O. Erickson, Burt Young, Charles Knapp, Faye Dunaway, Richard Bakalyan, Jim Burk, Roy Roberts, John Hillerman, George Justin, Bruce Glover, Roy Jenson, Fritzi Burr, John Huston, Jesse Vint, Beulah Quo, Joe Mantell, James O'Rear, Darrell Zwerling, Nandu Hinds, Jerry Fujikawa, Belinda Palmer, Elliott Montgomery, Claudio Martinez, Federico Roberto, Allan Warnick, John Holland, Denny Arnold, Elizabeth Harding, John Rogers, Cecil Elliott, Paul Jenkins, Bob Golden, Richard Warren
IMDB: Chinatown (1974)
Sponsored Links
Ratings
User Rating:
IMDB Rating:
8.2
Reviews
ReelViews

-

A nearly flawless example of movie composition, with close examination revealing how carefully it was put together. For those who take a less studious and more visceral approach to movie viewing, it's also worth noting that Chinatown is a superior thriller - one that will keep viewers involved and "in the moment" until the final, mournful scene has come to a conclusion.

Chicago Sun-Times

-

[Nicholson's] performance is key in keeping Chinatown from becoming just a genre crime picture--that, and a Robert Towne screenplay that evokes an older Los Angeles, a small city in a large desert.

TV Guide Magazine

-

A wonderfully brooding, suspenseful revisitation of the land of film noir, Chinatown is not only one of the greatest detective films, but one of the most perfectly constructed of all films.

Entertainment Weekly

-

But it's Polanski who pries the genre open until it goes metaphysical.

Variety

-

An outstanding picture.
Chinatown (1974)
Private eye Jake Gittes lives off of the murky moral climate of sunbaked, pre-World War II Southern California. Hired by a beautiful socialite to investigate her husband's extra-marital affair, Gittes is swept into a maelstrom of double dealings and deadly deceits, uncovering a web of personal and political scandals that come crashing together.