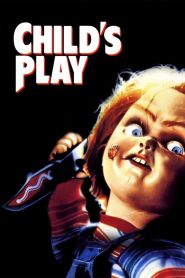 General Information
Glossary: C
Released Year: 1988
Runtime: 87 minutes
Genre: Horror, Thriller
Directors: Tom Holland
Casts: Brad Dourif, Ed Gale, Chris Sarandon, Alex Vincent, Dinah Manoff, Catherine Hicks
IMDB: Child's Play (1988)
Sponsored Links
Ratings
User Rating:
IMDB Rating:
6.6
Reviews
Chicago Sun-Times

-

A cheerfully energetic horror film of the slam-bang school, but slicker and more clever than most, about an evil doll named Charles Lee Ray, or Chucky.

The A.V. Club

-

Director Tom Holland keeps things moving along, turning the entire film into a pretty ruthlessly efficient scare delivery system.

The A.V. Club

-

The sequences without Chucky are as stock as they come, and so are all the flesh-and-blood characters around him, but he's still a hugely entertaining mischief-maker, and what he lacks in physical gifts, he compensates for in sneakiness.

IGN

-

Partially filmed on location in Chicago, the movie benefits from a snowy, urban setting that gives it a very different feel from most films in its genre. Hicks and Chris Sarandon (as the cop who killed serial killer Charles Chucky Lee Ray in the first place) are solid actors and brought a nice adult presence to the story.

Empire

-

It's nothing wildly original, but it is pacey and entertaining when it gets going.
Child's Play (1988)
A single mother gives her son a beloved doll for his birthday, only to discover that it is possessed by the soul of a serial killer.