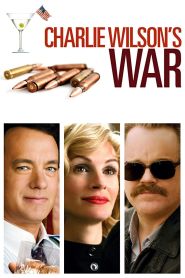 General Information
Glossary: C
Released Year: 2007
Runtime: 102 minutes
Genre: Biography, Comedy, Drama, History
Directors: Mike Nichols
Casts: Denis O'Hare, Tom Hanks, Philip Seymour Hoffman, Cyia Batten, Ned Beatty, Emily Blunt, Ken Stott, Rachel Nichols, John Slattery, Amy Adams, Erick Avari, Julia Roberts, Shiri Appleby, Om Puri, Harry S. Murphy, Daniel Eric Gold, Enayat Delawary, Wynn Everett
IMDB: Charlie Wilson's War (2007) - IMDB
Sponsored Links
Ratings
User Rating:
IMDB Rating:
7.1
Reviews
ReelViews

-

With its rapid pace, smart screenplay, and top-notch acting, this is one of the 2007 Oscar season's most appealing and compelling adult motion pictures.

Charlotte Observer

-

Hanks has a good time, romping around with the assurance of a holy fool. He and Roberts seem "actorish," putting on accents and mannerisms, but they're entertaining. Hoffman is something more, a scenery-devouring force of nature irresistible as a cyclone and irreverent as a stand-up comedian at a midnight show.

Entertainment Weekly

-

It's all about a likable scoundrel who discovers what it means to act out of conviction. The film's underlying twist, though, is tartly ironic.

Variety

-

Charlie Wilson's War is that rare Hollywood commodity these days: a smart, sophisticated entertainment for grownups.

Village Voice

-

Dark and funny and mean and sexy, damned near pitch-black-perfect considering that at the end of this boozy comedy you wind up with, oh, Osama bin Laden.
Charlie Wilson's War (2007)
The true story of Texas congressman Charlie Wilson's covert dealings in Afghanistan, where his efforts to assist rebels in their war with the Soviets had some unforeseen and long-reaching effects.