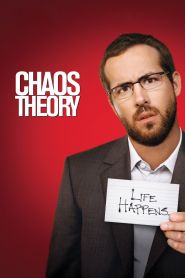 General Information
Glossary: C
Released Year: 2008
Runtime: 87 minutes
Genre: Comedy, Drama, Romance
Directors: Marcos Siega
Casts: Ty Olsson, Emily Mortimer, Christine Chatelain, Alessandro Juliani, Ryan Reynolds, Mike Erwin, Elisabeth Harnois, Lisa Calder, Donavon Stinson, Chris William Martin, Sarah Edmondson, Constance Zimmer, Laurie Murdoch, Stuart Townsend, Daryl Shuttleworth, Sarah Chalke, Matreya Fedor, Jovanna Huguet, Christopher Jacot, Jocelyne Loewen, Patricia Idlette, Denalda Williams, David Berner, Linnea Sharples, Simon Chin, Christina Twidale, Cassandra Brianne Hearle, Kevin Foley
IMDB: Chaos Theory (2008)
Sponsored Links
Ratings
User Rating:
IMDB Rating:
6.7
Reviews
Chicago Tribune

-

The performances and Marcos Siega's direction put a pleasing sheen on the material.

The Globe and Mail (Toronto)

-

When you watch Canadian actor Ryan Reynolds, there's often a sense that you're not just watching him perform in a movie, you're watching the next stage of his unfolding career plan.

Variety

-

The lead performers, the brighter fillips in Daniel Taplitz's screenplay and Marcos Siega's ("Pretty Persuasion") assured direction make this a pleasing item overall.

The Hollywood Reporter

-

The picture continuously shuffles moods like tunes on an iPod without ever making any lasting commitments.

Village Voice

-

Reynolds, called to 180 from anal nebbish to feral beast, is beautifully committed, but he gets no help on the other side of the camera.
Chaos Theory (2008)
Frank Allen, a professional speaker who lectures on time management has a perfectly ordered and scheduled life, down to the minute. When his wife sets his clock forward 10 minutes as a joke, his day is thrown off. Deciding that his strictly ordered life has done him little good, he begins to make multiple choice index cards, choosing one at random and doing what is written on the card.