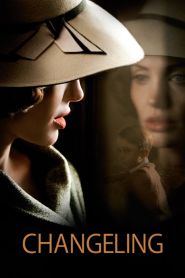 General Information
Glossary: C
Released Year: 2008
Runtime: 141 minutes
Genre: Drama, Mystery, Thriller
Directors: Clint Eastwood
Casts: Angelina Jolie, John Harrington Bland, Jeffrey Donovan, John Malkovich, Geoff Pierson, Amy Ryan, Gattlin Griffith, Michelle Gunn, Frank Wood, Colm Feore, Michael Kelly, Denis O'Hare, Jeffrey Hutchinson, Devon Conti, Peter Breitmayer, Antonia Bennett, Erica Grant, Jan Devereaux, Kerri Randles, Morgan Eastwood, Ric Sarabia, Debra Christofferson, Russell Edge, Mary Stein, Gregg Binkley, E.J. Callahan, Reed Birney, Colby French, Kelly Lynn Warren, Richard King, William Charlton, Cooper Thornton, J.P. Bumstead, Peter Gerety, Pamela Dunlap, Roger Hewlett, Jim Cantafio, Wendy Worthington, Riki Lindhome, Dale Dickey, Jason Butler Harner, Eddie Alderson, Michael McCafferty, David Goldman, Anthony De Marco, Kevin Glikmann, Hope Shapiro, Caleb Campbell, Zach Mills, Scott Leva, Clint Ward, Michael Dempsey, Phil Van Tee, Jim Nieb, Pete Rockwell, Lily Knight, Ryan Cutrona, Devon Gearhart, Andre Alexsen, William Brent, Jason Ciok, Wrong, Dominick Dunne, Leslie Gunning, Patrizia Milano, Kerry Hennessy, Bruce Holman, Christopher Karl Johnson, Jen Lilley, Darin Mangan, Michael Saglimbeni, John H. Tobin, George F. Watson, JW Wiseman, Joshua Logan Moore
IMDB: Changeling (2008)
Sponsored Links
Ratings
User Rating:
IMDB Rating:
7.8
Reviews
Variety

-

Emotionally powerful and stylistically sure-handed, this true story-inspired drama begins small with the disappearance of a young boy, only to gradually fan out to become a comprehensive critique of the entire power structure of Los Angeles, circa 1928.

The Hollywood Reporter

-

In Changeling Eastwood continues to probe uncomfortable subjects to depict the individual and even existential struggle to do what is right.

Newsweek

-

Eastwood tells his haunting, sorrowful saga with such a sure, steady hand, only a very hardened cynic could fail to be moved.

Chicago Sun-Times

-

Jolie, Malkovich and Geoff Pierson, as a lawyer who takes Collins' case before the Police Board, are very good at what they do very well. The film's most riveting performance is by Jason Butler Harner as the murderous Gordon Northcott.

The New Yorker

-

Changeling is beautifully wrought, but it has the abiding fault of righteously indignant filmmaking: it congratulates us for feeling what we already feel.
Changeling (2008)
Christine Collins is overjoyed when her kidnapped son is brought back home. But when Christine suspects that the boy returned to her isn't her child, the police captain has her committed to an asylum.